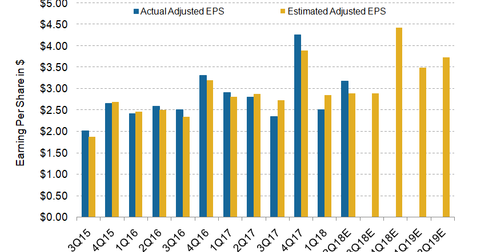 How FedEx Surpassed Analysts' Earnings Estimates in Fiscal 2Q18
By Samuel Prince

Updated
FedEx's fiscal 2Q18 earnings
Memphis-headquartered, global logistics giant FedEx (FDX) announced its fiscal 2Q18 earnings on December 19, 2017. It reported adjusted EPS (earnings per share) of $3.18, surpassing analysts' EPS estimate of $2.89 by a double-digit 12.4%. On a YoY (year-over-year) basis, the company's fiscal 2Q18 adjusted earnings rose 13.6% from $2.80 in fiscal 2Q17.
On a reported basis, FedEx's fiscal 2Q18 EPS was $2.84, a 9.7% rise from $2.59 a year ago.
The company's fiscal 2Q18 results boosted management's confidence and future business outlook. FDX had lowered its overall fiscal 2018 guidance in its fiscal 1Q18 results. But after its second-quarter earnings release, the company raised its guidance, which was $12–$12.80 per diluted share.
Now, FedEx expects EPS of $12.70–13.30 before year-end mark-to-market pension accounting adjustments. The EPS forecast also excludes expenses related to the TNT Express integration and certain first-quarter FedEx Trade Networks legal matters. The company clearly stated that it's unable to forecast mark-to-market pension accounting adjustments for fiscal 2018.
FedEx stock performance
Earnings of worldwide operating logistics companies such as FedEx and United Parcel Service (UPS) can provide an overall view of the economy. On December 19, 2017, FedEx stock rose a little. However, the next day, it rose 3.5% to close at $251.07 per share. FDX and UPS are trading very close to their 52-week highs, riding on US tax reforms. The recently passed tax reform bill will allow for 100% expensing of qualifying capex (capital expenditure). Once that takes place, FedEx could incur more capex going forward.
In the last year, FedEx returned 27.8% to investors, whereas rival UPS delivered 2.2% to its investors. Let's take a look at the stock yields in that period for FedEx's peers.
During the same time frame, the benchmark index SPDR S&P Transportation ETF (XTN) yielded 18.5%.
What's in this series
In this series on FedEx's fiscal 2Q18 earnings, we'll be taking a look at its segmental results. Then we'll turn to the analysts for their views on the company after its fiscal 2Q18 results.