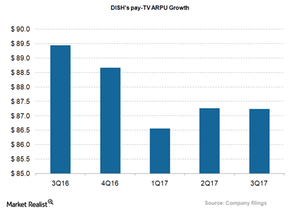 Can Hopper Enhancement Boost DISH Network's Revenue?
Reasons for decline in ARPU
In a bid to retain its subscriber losses, DISH Network (DISH) continues to enrich its award-winning popular DVR (digital video recorder) device, the Hopper system with a Joey unit. The enhancement may help the company boost its ARPU (average revenue per user).
From the graph above, you can see DISH's pay-TV ARPU growth in the last five quarters. Its ARPU for 3Q17 was $87.20 against $89.40 in the prior year's quarter. During the last five quarters, ARPU declined at a CAGR (compound annual growth rate) of 0.6%, which clearly reflects on the company's top line.
In 3Q17, the company's revenue fell 4.8% YoY (year-over-year) to $3.6 billion. Stiff competition from low-cost video streaming players Netflix (NFLX) and Hulu and the increased OTT (over-the-top) bundled service offerings from AT&T (T) and Verizon have resulted in subscriber losses for DISH.
Article continues below advertisement
Enriching Hopper to boost ARPU
Due to the availability of OTT services, many consumers are preferring to watch shows at their convenience on multiple devices. To tap into this segment of subscribers, DISH launched its Hopper system with a Joey unit in 2012, which allows subscribers to watch recorded shows and skip the ads.
In order to stay competitive, DISH is offering an Amazon Alexa (AMZN) voice control to all Joey customers. It's also providing multi-room music on Hopper. DISH also launched Hopper 3 last year, which features 16 tuners, delivers an enhanced 4K[1. a resolution of 3840 pixels × 2160 lines] ultra HD (high-definition) experience, and supports up to seven TVs simultaneously.
The Hopper 3 is available with Netflix ultra HD titles. In September 2017, DISH integrated the Netflix app (application) on its 4K Joey. The price is $50 with an additional charge of $10 for Hopper DVR service.
The launch of the service has also helped DISH improve its 3Q17 churn rate to 1.6% compared to 2.1% in 3Q16. It may also help support its declining ARPU.