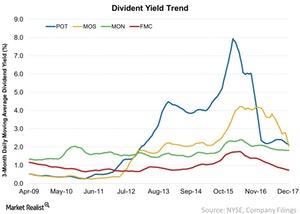 Digging Deeper into Agriculture Stocks' Dividend Yields: Part 2
Remaining four
In this part of the series, we'll continue to look at screening for dividend stocks within the agriculture industry. In particular, we'll look at the dividend yield trends for the remaining four stocks—PotashCorp (POT), Monsanto (MON), Mosaic (MOS), and FMC (FMC).
Article continues below advertisement
Article continues below advertisement
Stable dividend policy
In the above chart, we see a similar trend of stable-to-rising dividend yields for these four companies. These companies also distribute dividends quarterly. PotashCorp distributed a quarterly dividend of $0.10 in each of its most recent quarters. Monsanto distributed $0.54 in dividends, and FMC distributed $0.17 per share in each of its recent four quarters.
In contrast to the above three stocks, Mosaic's dividend fell from $0.28 to $0.03 in the recent four quarters.
Slashing dividends
One of the most important considerations for a dividend stock is flat-to-positive dividend growth. Companies formulate their dividend policies based on future performance expectations. When companies show growth in dividends each year, it usually signals strength in a company's earnings potential.
However, if dividend growth has been flat for several quarters, it usually indicates an expectation of slower growth in earnings. By now, it would be clear that when a company slashes its dividends, it usually signals trouble in paradise.
In the above chart, the dividend yield of PotashCorp and Mosaic fell in more recent quarters due to these companies slashing their dividends (SCHD). These two companies join the list of companies, including CF Industries and Israel Chemicals, that cut their dividends in recent years.
In the next part, we'll see which four stocks made it to our top-four list.