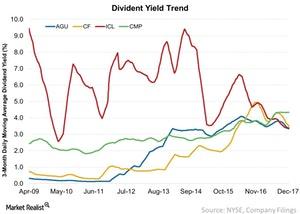 Digging Deeper into Agriculture Stocks' Dividend Yields: Part 1
Digging deeper
In the previous part of this series, we looked at the top four dividend stocks in the agriculture industry by looking at their forward dividend yields. They include Compass Minerals International (CMP), Israel Chemicals (ICL), Agrium (AGU), and CF Industries (CF).
While the forward dividend yield is an important consideration in selecting a dividend-paying stock (FDVV), a historic dividend yield would provide additional information to help in our analysis. Let's look at the historical dividend yields of the above four stocks.
Article continues below advertisement
Historical yield
In the above chart, we see the historical three-month rolling yield of four stocks to smoothen the trend. Looking at the historical trends, it's clear that three stocks—Compass Minerals International, Agrium, and CF Industries—have stable dividend yields, while Israel Chemicals' yield is more volatile.
The result of this yield trend can be attributed to each company's dividend policy. Each of the companies has distributed dividends quarterly, with the first three companies distributing a stable dividend per share historically.
For example, Compass Minerals distributed $0.72 per share in each of the most recent four quarters. Similarly, Agrium distributed $0.88 per share, and CF Industries distributed $0.30 per share over the same period.
Israel Chemicals
In contrast, Israel Chemicals' dividend policy differs from these companies. In its most recent annual filings in 2016, it stated that it will distribute 50% of its annual adjusted net profits. That means that instead of a stable dividend like the above three companies, Israel Chemicals will distribute 50% of its earnings, which can change each quarter. Israel Chemicals was distributing 70% before this change in its dividend policy in 2016.
While Israel Chemicals lowered its percentage of earnings distributed as dividends, CF Industries cut its quarterly dividends in the quarter ended in May 2015 from $1.50 to $0.30 and hasn't raised it since.
In the next part, we'll continue to look at these four stocks before providing our assessment of the top dividend stocks in this industry.