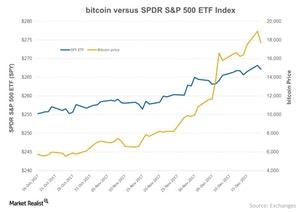 How Bitcoin Has Performed versus SPY
By Meera Shawn

Updated
Comparision to SPY
This article will look at the performance of bitcoin versus the SPY Index. Bitcoin was trading at $17,000 on Wednesday, December 20, while the SPY Index was at $268. A big plus for investors in cryptocurrencies like bitcoin is that their correlation to other financial assets remains unmistakably low. The correlation between bitcoin and the S&P 500 since 2013 is close to 3%. The correlation scale ranges from -100% to 100%, and 0% indicates no correlation, so a 3% correlation is pretty close to being completely uncorrelated.
The above chart shows the performance of bitcoin versus the SPDR S&P 500 ETF, which closely tracks the SPX Index. Bitcoin (BTC) has seen a YTD (year-to-date) gain of a whopping 1,072% so far, while the S&P Index (SPY) has risen almost 20% YTD.
Article continues below advertisement
Volatility reading
Cryptocurrencies are sometimes argued to be ill-suited for mass market use, as they are open source. Plus, price volatility around bitcoin and other cryptocurrencies makes them a poor method of payment (for now). The volatility in bitcoin as of December 20 was at 119%, while it was as high as 170% during the past week prior to the launch of bitcoin futures. Volatility in the SPY Index was 6.7% on the same day. The volatility in SPY was at its highest during the 2008 crisis at almost 120%.
Miller on bitcoin
Recently, investor Bill Miller, the chair and chief investment officer at Miller Valued Partners, disclosed that the MVP1 hedge fund invests 50% of its holdings in bitcoin. The fund has almost $155 million in assets under management as of the end of October. Miller also added that the fund holds bitcoin cash and that he invested in bitcoin during 2013 and 2014.