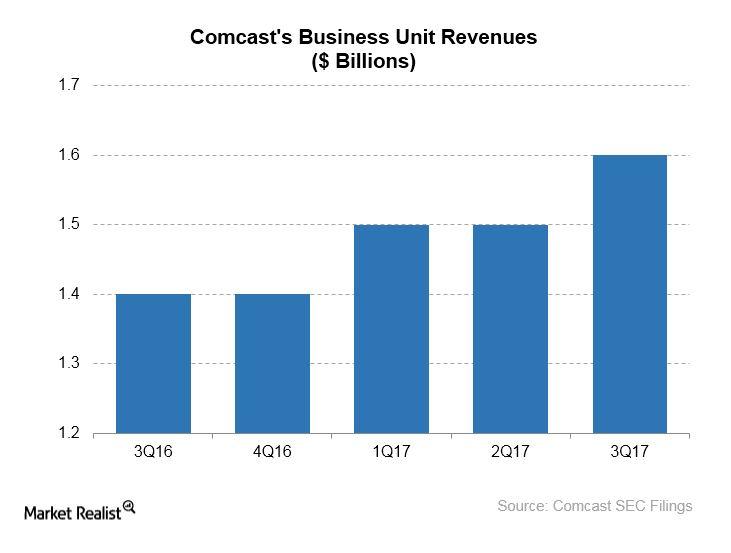 Comcast Moves To Boost Growth In Business Unit
National footprint covered
With the recently announced rollout in the Western US, DOCSIS 3.1-based Internet service is now available across Comcast's national footprint in the West, Central, Mid-Atlantic, and Northeast service areas.
According to Comcast, the DOCSIS 3.1-based Internet service enabled business customers to benefit from high-performance Internet access without the expensive or disruptive construction of new network facilities.
Article continues below advertisement
The DOCSIS 3.1-based Internet service also appears to be a vehicle for Comcast to ride the adoption of cloud computing by enterprises. Amazon (AMZN) and Microsoft (MSFT), the leading cloud vendors, are helping businesses move their workloads from on-premise data centers to the cloud to achieve greater operational efficiency.
Business unit grew 12.6%
In 3Q17, Comcast's (CMCSA) Business Services segment generated revenues of $1.6 billion, which rose 12.6% year-over-year. The revenue growth in the Business segment was supported by the increase in the number of business customers taking up Comcast's business-oriented solutions.
The expanded availability of the DOCSIS 3.1-based Internet service could win Comcast more business customers, leading to more revenues and growth in its Business Services unit.
Shortly after announcing the expansion of the DOCSIS 3.1-based Internet service to the Western US, Comcast announced that restaurant chain Taco Bell selected it to provide managed services at more than its 6,200 locations across the US. Taco Bell is a subsidiary of Yum! Brands (YUM), a global restaurant company.