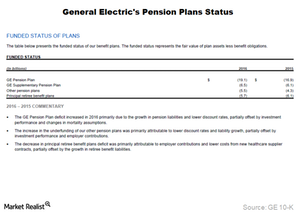 Analyzing General Electric's Pension Liabilities
By Samuel Prince

Dec. 13 2017, Updated 7:36 a.m. ET
Pension liabilities
Employees depend on their company's pension plans to finance their retirement. Pension plans have two aspects—plan liabilities and plan assets. Often, investors can neglect to consider a company's pension liabilities. These liabilities refer to an obligatory sum payable by a company to its employees after their retirement.
In July 2017, Bloomberg published an article on the pension liabilities of S&P 500 companies. Of the 200 biggest defined benefit plans based on assets, 186 haven't been fully funded, meaning these companies may not have the required funds to support their present and future retirees.
Article continues below advertisement
General Electric's pension liabilities
At the end of 2016, General Electric's (GE) overall projected benefit obligations stood at $71.5 billion, compared with $68.7 billion in 2015. The company had $45.8 billion in pension plan assets, meaning that GE's ratio of pension assets to pension obligations stood at 64%.
The fair value of the plan's assets amounted to $45.7 billion at the end of December 2015, and the assets have hardly appreciated. However, the company's projected obligations rose $2.8 billion during the same period. The underfunding of GE's overall pension plans ballooned from $9.3 billion in 2010 to $31.1 billion in 2016.
On December 31, 2016, GE's principal pension plan was underfunded by $25.6 billion, compared with $23.0 billion in 2015. The company also had $6.5 billion in projected benefit obligations in its unfunded supplementary pension plan at the end of 2016.
Industrial peers' funding ratios
Boeing (BA), which recently replaced General Electric as the highest-market-cap US manufacturer, has a funding ratio of 74%. Funding ratios represent pension liabilities as a percentage of pension obligations. In comparison, US manufacturer Parker-Hannifin's (PH) funding ratio is 62.2%, Anadarko Petroleum's (APC) 58.2%, and Lockheed Martin's (LMT) is 67.9%.
Electric utilities and oil and gas exploration and production companies make up 3% and 3.2% of the SPDR S&P 500 ETF (SPY), respectively. General Electric forms 0.68% of SPY's portfolio. In this series, we'll discuss GE's pension obligations and steps the company is taking to lower its pension burden.