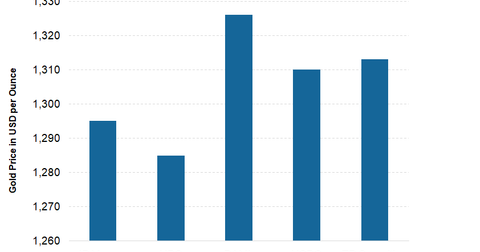 Why Analysts Are Turning Bearish on Gold in 2018
By Anuradha Garg

Updated
Analysts' outlook on gold
Wall Street analysts' outlook for gold prices helps us understand the path that gold investments could take going forward. Gold investments include physical gold and ETFs like the VanEck Vectors Gold Miners ETF (GDX).
These investments also include equities like Eldorado Gold (EGO), Franco Nevada (FNV), New Gold (NGD), and Alamos Gold (AGI).
J.P. Morgan
J.P. Morgan (JPM) is advising its traders to short gold for now. The bank sees the precious metal getting relief from the more aggressive stance of the Federal Reserve by the end of 2018.
JPM sees gold prices averaging $1,295 per ounce in 2018, with second-half prices averaging $1,340 per ounce. JPM argued that with strong economic growth, inflation bottoming, and the Fed's rate hikes, the US real rates could rise in 2018 and impact gold prices negatively.
UBS: Dropping its bullish stance
UBS recently dropped its bullish stance on gold to turn neutral on the metal. The bank stated that it hasn't found a compelling reason to expect gold to surge anytime soon. Heading into 2018, the bank sees neither a catalyst for a rally nor a sell-off.
Although UBS was previously bullish on gold due to its softer outlook for the dollar, that stance has changed. UBS expects the US dollar (UUP) to strengthen against the key currencies.
UBS also sees global economies entering a growth mode. Against this backdrop, it says it becomes difficult to justify a strong rally in gold prices.
Macquarie Bank and Bank of America Merrill Lynch
According to Macquarie Bank, there may be a further downside for gold, similar to the patterns seen in 2015 and 2016. In the fourth quarters of 2015 and 2016, there was a gold sell-off as the US dollar rallied. Macquarie analysts expect the same trend to affect gold prices in 2017 as well.
Bank of America Merrill Lynch also feels that gold and silver prices are in for a downside heading into 2018. The firm's analysts forecast gold to average $1,326 per ounce in 2018, up almost 5.0% from its current levels. The bank sees a rise in real interest rates in 2018, impacting the demand for precious metals.