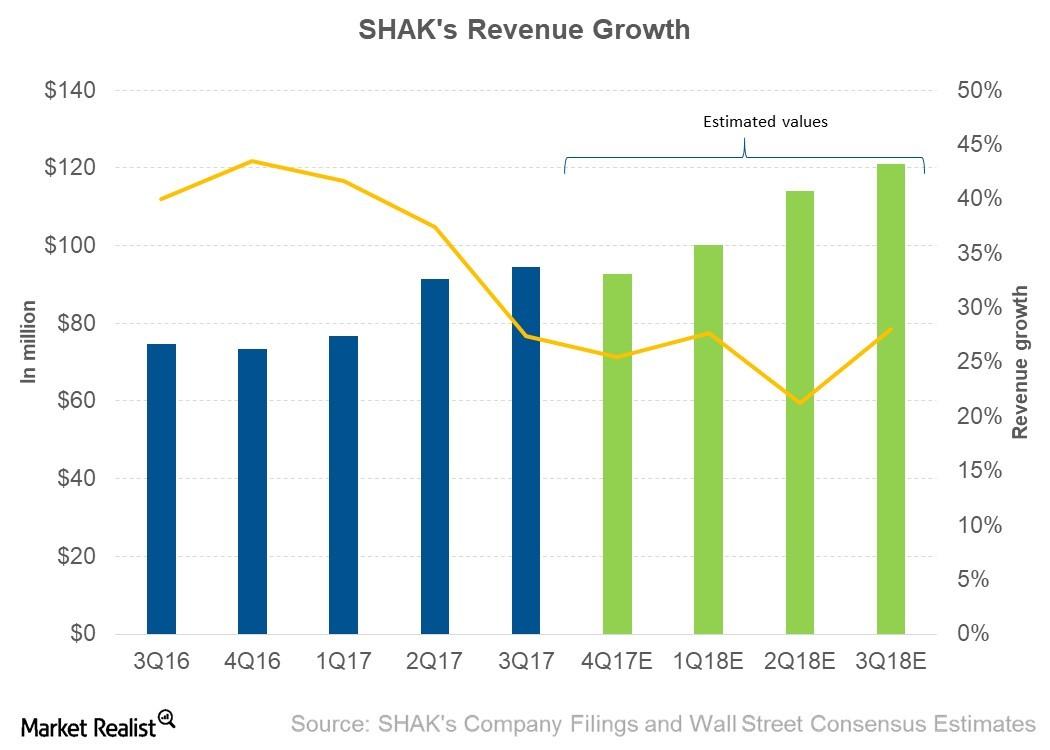 Why Analysts Are Expecting Shake Shack to Rise over the Next 4 Quarters
Revenue estimates
For the next four quarters, analysts are expecting Shake Shack (SHAK) to post revenues of $427.9 million, which would be a 27.4% YoY (year-over-year) rise over its $336.0 million in the corresponding four quarters of the previous year. The company's management has set its 2017 revenue guidance to be in the range of $354 million–$355 million, which would represent a 31.9%–32.2% rise.
Article continues below advertisement
Revenue growth
Shake Shack's revenue growth is expected to be driven by unit growth. After posting its 3Q17 earnings, the company's management increased its 2017 guidance for unit development from the range of 23–24 to 24–26 for company-owned restaurants and from 15 to 18 for franchised restaurants. For 2018, the management expects to open 32–35 company-owned restaurants and 16–18 franchised restaurants.
In the first three quarters of 2017, the company's SSSG (same-store sales growth) fell, and so to improve its SSSG, the company has introduced new menu items. In October 2017, Shake Shack opened its first cashless kiosk in New York. The company's management expects to continue spending on digital innovations in 2018 and to enhance the customer experience.
In September and October 2017, the company tested a delivery service by partnering with DoorDash and Caviar. During this pilot, SHAK tested new packaging and was able to learn about its ability to handle delivery at peak times. These initiatives alongside an increase in menu prices are expected to drive the company's SSSG over the next four quarters.