AMD's EESC Segment Looks beyond Game Console for Growth
Between 2012 and 2016, AMD's revenues fell more than 20% as it lost significant market share in the PC space.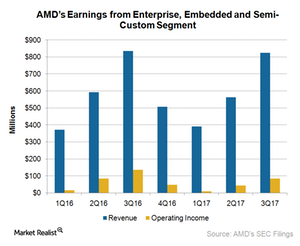 AMD's EESC segment
In the earlier parts of the series, we saw that Advanced Micro Devices' (AMD) YoY (year-over-year) revenue growth was driven by an increase in ASP (average selling price) of Computing and Graphics products and patent licensing revenues.
However, growth in the EESC (Enterprise, Embedded, and Semi-Custom) segment was slow. The segment offers semi-custom chips used in game consoles, server chips, and embedded chips.
Between 2012 and 2016, AMD's revenues fell more than 20% as it lost significant market share in the PC space, as well as in the server CPU (central processing unit) and GPU (graphics processing unit) space.
At that time, the semi-custom segment came as a silver lining. EESC's revenues rose from $700 million in 2012 to $2.7 billion in 2016, driven by increased shipments of connected devices and gaming consoles.
Article continues below advertisement
Article continues below advertisement
EESC earnings
In fiscal 3Q17, EESC revenues were flat on a YoY basis. However, revenues rose 46% sequentially to $824 million, driven by seasonal demand for semi-custom chips, growth in server chips, and the addition of new patent licensing deal.
EESC's operating income fell 38% YoY to $84 million due to higher costs of developing server chips.
Revenue drivers and deterrents
Sony's (SNE) PlayStation 4 and Microsoft's (MSFT) Xbox One game consoles have reached the back half of their life cycles, resulting in a decline in earnings. Hence, AMD is looking to expand its semi-custom business beyond game consoles. It has partnered with Intel (INTC) to supply semi-custom GPUs for the latter's mobile PC platform for gaming.
AMD is also expanding its server business by the production ramp of its EPYC server CPUs and Radeon Instinct GPUs for the datacenter. AMD has secured design wins from some key cloud companies and OEMs like Baidu (BIDU) and Hewlett Packard Enterprise (HPE) for its server chips.
However, it would take four to six quarters to ramp up production. An increase in server chips would help AMD offset declines in its semi-custom business.
AMD is also monetizing its intellectual property to boost earnings. The company is in talks with several companies for a licensing deal, and it recently completed one deal. AMD did not give any details about the licensing deal, but analysts speculate that the deal is with Tesla (TSLA).
In the next few parts of the series, we will look deeper into EESC revenue drivers and understand the growth opportunity presented by them.