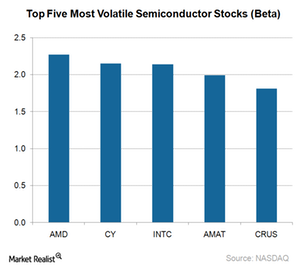 Why AMD and Intel Are in the Top 5 Most Volatile Semi Stocks
By Puja Tayal

Dec. 29 2017, Updated 5:40 p.m. ET
Beta
Semiconductor stocks that are highly traded are largely volatile in nature. The gap between the market's performance and a stock's performance is referred to as stock price volatility and is measured by beta. A beta of 1.0 is the market's volatility, and so a beta of greater than 1.0 indicates that the stock is highly volatile, while a beta of less than 1.0 indicates that the stock is less volatile than the market.
Short-term investors and traders are interested in highly volatile stocks as they look to profit from strong price movements through options trading.
Article continues below advertisement
The most volatile semiconductor stocks
As of December 22, 2017, Advanced Micro Devices (AMD) was the most volatile stock, with a beta of 2.27, followed by Cypress Semiconductor (CY) at 2.15, Intel (INTC) at 2.14, Applied Materials (AMAT) at 1.99, and Cirrus Logic (CRUS) at 1.81.
As these stocks are highly volatile they reacted strongly to the recent correction in semiconductor stocks at the end of November 2017. All these stocks are trading below their Wall Street analyst consensus price targets.
AMD
AMD's stock price fell 7.3%, whereas the semiconductor industry's stock price has fallen ~3.7% in the past month. This decline came as its fiscal 3Q17 earnings showed weaker guidance for fiscal 4Q17 and after Intel hired its GPU (graphics processing unit) head, Raja Koduri.
AMD also lost some share of the discrete GPU market to NVIDIA (NVDA). Competition has been crushing the stock, but it's been surviving by gaining some market share from other competitors.
Article continues below advertisement
Cypress and Applied Materials
Cypress stock has fallen ~10.9% in past month, while Applied Materials stock has fallen ~9.7%. Although the two companies have strong fundamentals and growth prospects, they reacted to the stock price correction in the semiconductor industry.
Notably, many analysts believe that Cypress could be a lucrative acquisition target because it has the perfect portfolio to tap the IoT (Internet of Things) market and its valuation is also $5.1 billion.
Cirrus Logic
Cirrus Logic earns 80% of its revenues from Apple (AAPL) for its revenue. Its stock price has fallen 7.2% in the past month, as rumors circulated that Apple might cut its orders for the 2017 iPhone models.
Intel
Intel has been among the most stable stocks, having moved along with the market. However, Intel's fortunes turned in 4Q17, and Intel became the most highly traded semiconductor stock, which significantly increased its volatility.
While other volatile stocks fell, Intel's stock has risen 4.6% in the past month as it announced its partnership with AMD on gaming laptops and reported strong earnings and guidance. In the past 12 months, its revenue and EBITDA (earnings before interest, tax, depreciation, and amortization) was the largest among the 26 semiconductor stocks we're covering.
Next, we'll look at the top five fastest-growing semi stocks of 2017.