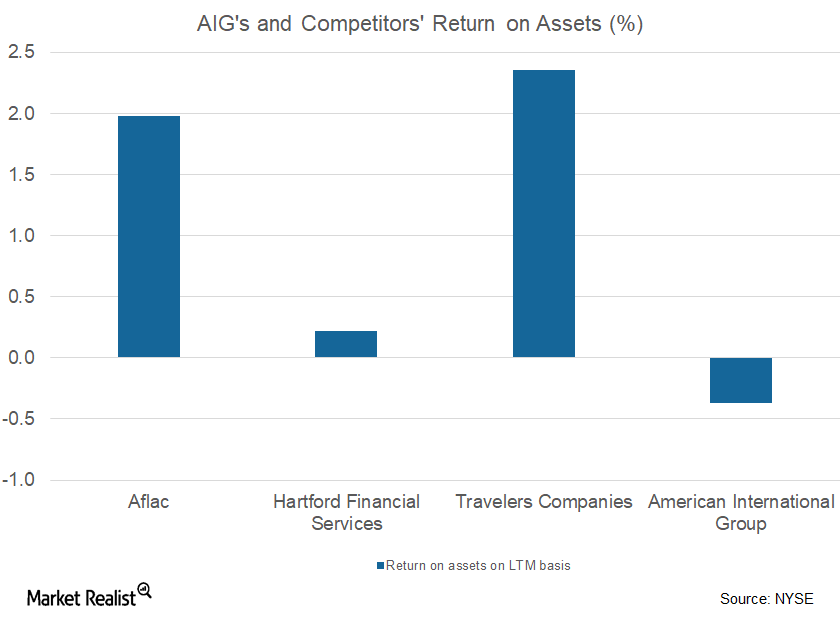 How AIG's Businesses Performed in 9M17
By Raymond Anderson

Dec. 28 2017, Updated 7:35 a.m. ET
Liability and Financial Lines business
American International Group's (AIG) Liability and Financial Lines business saw a decline in net premiums earned to $6.5 billion in 9M17 from $8.1 billion in 9M16, reflecting a 20.0% fall.
This business saw a marginal 1.0% decline in net investment income from $1.94 billion in 9M16 to $1.93 billion in 9M17 due to reduced dividends and interest.
However, the business's net investment income was positively impacted by profits on securities. In this case, the company has chosen a fair value option and a rise in the income from investments in alternative assets.
While AIG posted a return on assets (or ROA) of -0.37% on an LTM (last-12-months) basis, its peers (XLF) Aflac (AFL), Hartford Financial Services (HIG), and Travelers Companies (TRV) posted ROA of ~2.0%, 0.22%, and ~2.4%, respectively.
Article continues below advertisement
Property and Special Risks business
In 9M16, AIG's Property and Special Risks business reported a pretax operating loss of $44.0 million. In 9M17, it posted a pretax operating loss of $2.2 billion mostly due to catastrophe losses from Hurricanes Irma, Harvey, and Maria, as well as the devastating Mexico earthquake.
However, a rise in the current year adjusted accident loss ratio mostly related to commercial property in Europe. The US was also a major contributor.
Net investment income in the Property and Special Risks business reported a rise of 47.0% in 9M17 compared to 9M16. This increase resulted from profits on securities in which the company has chosen fair value option. Another factor was the rise in income related to investments made in the alternative assets. However, the decline in dividends and interest negatively impacted the segment's net investment income.