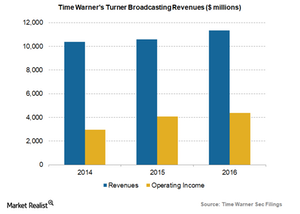 Will AT&T Agree to Sell CNN or DIRECTV for Time Warner Buyout?
Terms of US regulators
Amid rising competition in the wireless space, AT&T (T) has its hopes in the proposed acquisition of leading content provider Time Warner (TWX). However, the deal, which seemed it would close by the end of this year until last week, could be in jeopardy. The US Department of Justice (or DOJ) is in no mood to approve the planned merger.
A report from the Wall Street Journal on November 2 stated that the DOJ is preparing to block the deal. The situation worsened on November 8, when the New York Times reported that US (SPY) antitrust regulators are pushing AT&T to offload Time Warner's Turner Broadcasting, which includes CNN, or its DIRECTV satellite TV provider, which was acquired two years ago, to complete the merger deal. This requirement for the acquisition approval has spurred tensions between the DOJ and AT&T, and also became a matter of public dispute. The deal also got tangled politically after President Donald Trump, a critic of CNN, showed his disinterest in this merger deal during the presidential campaign last year.
Article continues below advertisement
AT&T's response to DOJ demands
According to reports, AT&T is planning to take the matter to court if the DOJ decides to block the acquisition of the media company, as it believes that the government has no valid justification to block the transaction. Also, AT&T made clear its intentions of not divesting any of these assets to get merger approval. Turner Broadcasting has been Time Warner's most profitable segment driven by cable channels including TBS, TNT, Cartoon Network, and CNN. It generated revenues of $11.4 billion and operating income of $4.4 billion in 2016. AT&T's DIRECTV had 20.6 million satellite video subscribers at the end of 3Q17.