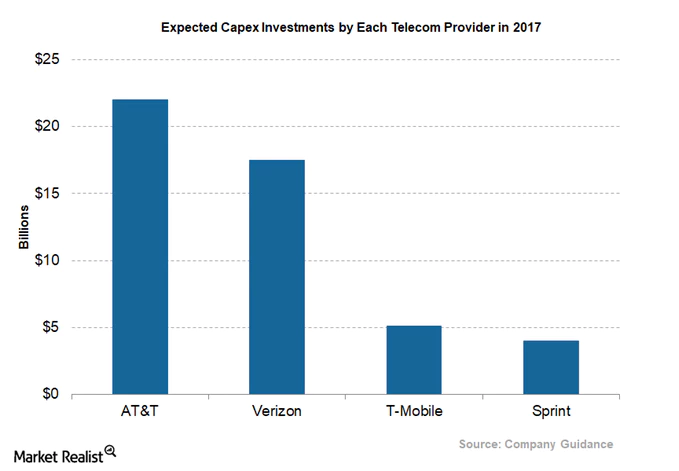 What Impacted AT&T Stock in October 2017?
AT&T stock fell more than 14% in October
The stock price of telecom giant AT&T (T) fell more than 14% in October. AT&T announced its 3Q17 results on October 24 and reported revenues of $39.7 billion. Its 3Q17 revenues reflected a fall of 3% YoY (year-over-year) compared to revenues of $40.9 billion in 3Q16.
AT&T experienced declines in its legacy wireline service and consumer mobility verticals in 3Q17.
AT&T's operating margin rose to 16.1% in 3Q17 from 15.7% in 3Q16. Its GAAP[1. generally accepted accounting principles] net income was $3.0 billion ($0.49 per share) in 3Q17, compared to net income of $3.3 billion ($0.54 per share) in 3Q16.
AT&T's non-GAAP EPS (earnings per share) totaled $0.74 in 3Q17, marginally below analysts' estimate of $0.75.
Article continues below advertisement
Online video service
Last year, AT&T launched the DIRECTV NOW OTT (over-the-top) online video streaming service and offered more than 100 channels for $35 per month. In 2Q17, AT&T added 152,000 DIRECTV NOW subscribers and expected to add more than 300,00 subscribers in 3Q17.
AT&T lost 89,000 video subscribers in 3Q17, and more than 300,000 customers shifted to the OTT service.
AT&T expected to lead in capex
AT&T is expected to take the lead in capital expenditure (or capex) for fiscal 2017 among its telecom peers, driven by efforts to enhance its network and procurement of spectrum. AT&T expects its capex to reach $22.0 billion for fiscal 2017, down from $22.9 billion in 2016.
AT&T's peers Verizon (VZ), T-Mobile (TMUS), and Sprint (S) have estimated capex of $17.0 billion, $5.0 billion, and $3.8 billion, respectively, for 2017.