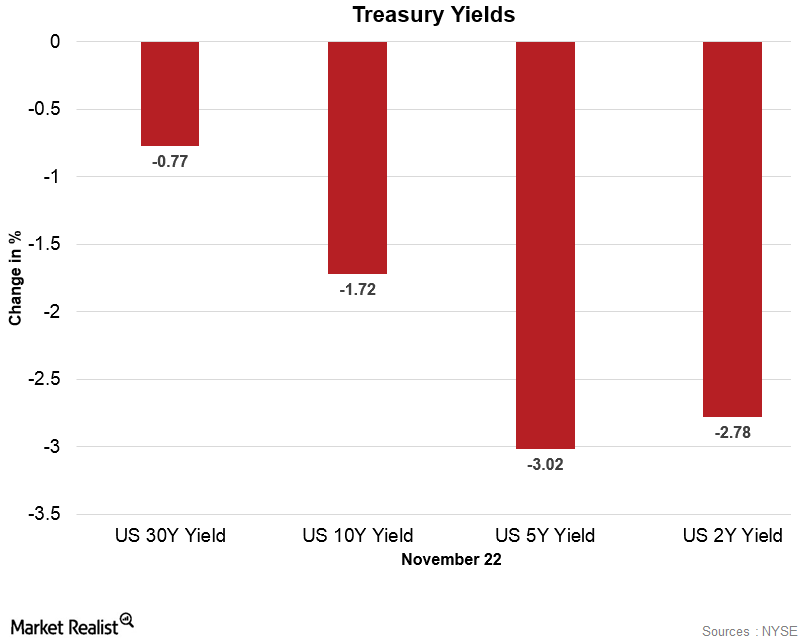 US Dollar Index Weak in The Early Hours of November 23
US Dollar Index
The US Dollar Index has been weak for two consecutive trading weeks, and started this week on a mixed note. The index lost strength as the week progressed and fell to four-week lows on Wednesday. The US Dollar Index opened the day with weakness on Thursday.
Article continues below advertisement
Market sentiment
Market sentiment towards the US Dollar Index was mixed in the beginning of the week due to concerns about tax reform plans. On November 22, the US Dollar Index fell to one-month lows after the release of the FOMC's (Federal Open Market Committee) meeting minutes. Although FOMC members are positive about economic growth, some participants are concerned about low inflation and high asset valuations, which weakened market sentiment and weighed on the US Dollar Index.
US Treasury yields
US Treasury yields fell on Wednesday after the release of the FOMC meeting minutes at 2:00 PM EST (Eastern Standard Time). US bonds moved higher amid decreased risk appetite due to concerns about subdued inflation.
Treasuries' performance on November 22
ten-year Treasury yields closed at 2.3—a fall of ~1.7%
30-year Treasury yields closed at 2.8—a fall of ~0.77%
five-year Treasury yields closed at 2.0—a fall of ~3.0%
two-year Treasury yields closed at 1.7—a fall of ~2.8%
The iShares 20+ Year Treasury Bond ETF (TLT) rose 0.32%, the ProShares UltraPro Short 20+ Year Treasury ETF (TTT) fell 0.93%, and the ProShares UltraShort 20+ Year Treasury ETF (TBT) fell 0.56% on November 22.
US bond and stock markets are closed on November 23 for Thanksgiving. In the next part of this series, we'll discuss how commodities performed in the early hours of November 23.