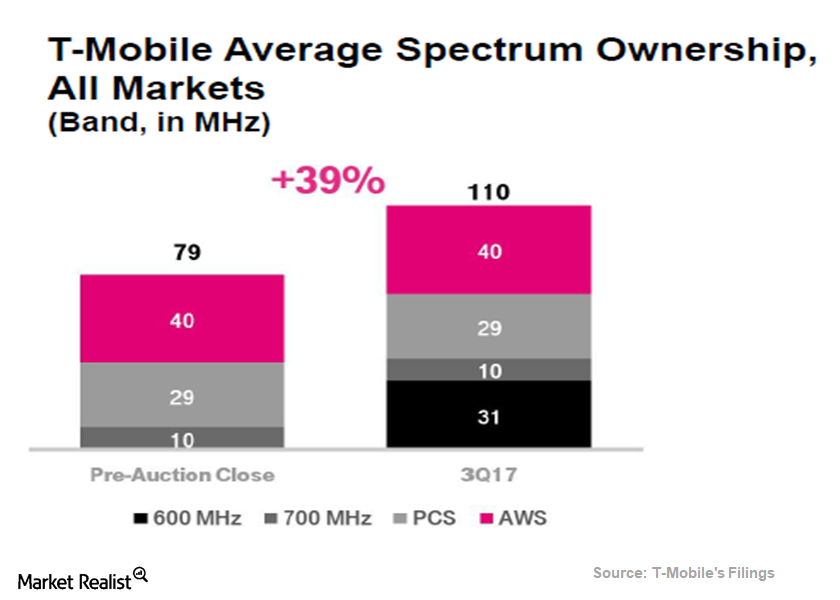 Understanding the Trends in T-Mobile's Low-Band Spectrum Rollout
T-Mobile's spectrum growth
T-Mobile (TMUS) has a solid spectrum position and owned an average of ~110 MHz (megahertz) spectrum nationwide at the end of 3Q17, which represented an increase of ~39% in spectrum holdings, compared with before the conclusion of its broadcast incentive auction in April. According to T-Mobile, its spectrum consists of the following (on average):
31 MHz in the 600 MHz band
10 MHz in the 700 MHz band
29 MHz in the 1900 MHz PCS band
40 MHz in the AWS band
The two largest telecoms, AT&T (T) and Verizon Communications (VZ), own more significant low-band spectrums than Sprint (S) and T-Mobile own within the US wireless market. But T-Mobile has eliminated the major advantage of industry giants with its large 600 MHz low-band spectrum procurement from the broadcast incentive auction last April.
Article continues below advertisement
T-Mobile's 700 MHz A-Block update
T-Mobile continues to grow its coverage on its 700 MHz A-Block spectrum. This better coverage on the low-band spectrum has been positively impacting T-Mobile's customer growth. The telecom company had stated at the end of 3Q17 that it already owned or entered into agreements to own 700 MHz A-Block spectrum, which covers ~84% of the US population, or 272 million people. The spectrum covers all of the top-ten market areas in the US.
T-Mobile's management stated that the company has largely completed a 700-MHz A-block spectrum deployment. At the end of 3Q17, the PoPs (point-of-presence) covered under extended range LTE (long-term evolution) on the 700 MHz A-block reached 271 million people.
Nationwide, T-Mobile continues to expand its 4G LTE coverage and now provides it to 316 million people. It expects to extend the coverage to reach 321 million people by the end of 2017.