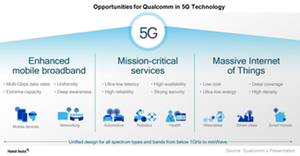 Where Qualcomm Stands in the 5G Race
Qualcomm unveils 5G prototype in smartphone 
Qualcomm (QCOM) is looking to venture into new applications for its Snapdragon 835 processors as the world moves toward connected devices. The next-generation 5G technology will likely have the capability to connect several devices simultaneously to the Internet with low latency, enabling a more connected world.
Qualcomm already unveiled the industry's first 5G modem, the X50, in 2016. Intel (INTC) followed with its own 5G modem, but Qualcomm is a step ahead of Intel because it recently unveiled its X50 5G modem in a smartphone device at the Hong Kong 5G summit in October 2017. The demo device was Qualcomm's reference design for smartphone vendors.
Qualcomm has completed the first test of the X50 modem in a smartphone. In the test, the device hit the speed of 1 Gbps (gigabits per second) on the 28 gigahertz mm (millimeter) wave frequency band.
The company stated that the modem will be further developed with more miniaturization in the coming year, and as the technology matures, it could hit speeds of 5G bps on the 5G network.
Article continues below advertisement
5G smartphone reference design
Qualcomm's first 5G smartphone reference design is 9 mm thick and features an edge-to-edge display. The company developed a new millimeter wave antenna to make the X50 modem work on a smartphone. The company expects commercial 5G smartphones based on the 3GPP (Generation Partnership Project) NR (New Radio) specification to hit the market in 1H19.
Qualcomm is also working with Verizon Communications (VZ) and Novatel Wireless to develop 5G NR mm Wave technology and over-the-air field trials based on the 5G NR Release-15 specifications.
Application of 5G technology
Qualcomm is also exploring various applications of 5G technology, especially in mission-critical use cases. Qualcomm is working with ForwardXP and Leap Motion on a VR (virtual reality) application codenamed Think FAST, which would be used to train medical practitioners and first responders.
David J. Teece of the Haas School of Business at UC Berkeley authored a study that showed 5G could improve healthcare by enabling continuous monitoring and processing of patients' health metrics, enhancing remote diagnoses, and powering immediate predictive analytics. But the effectiveness of 5G will likely depend on public policies and consumer adoption.
Next, we'll look at Qualcomm's efforts in the automotive space.