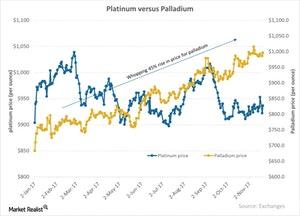 An Overview of the Platinum and Palladium Markets in 2017
Palladium over platinum?
Instead of discussing the two most prominent precious metals—gold and silver—this series concentrates on platinum and palladium instead. Unlike gold, these two metals have many industrial uses.
Their price trends have been changing recently, and they no longer take all their cues from gold for their price directions.
Platinum is utilized in diesel engines as an autocatalyst, and palladium is used in gasoline engines as an autocatalyst.
Since the 2015 Volkswagen (VLKAY) emissions scandal, the demand for diesel cars has dropped substantially, and gasoline-powered vehicles are in high demand. This incident inadvertently led to rising palladium demand, which overtook platinum.
Article continues below advertisement
Emerging trends
In September 2017, palladium prices overtook the price of platinum. Palladium has witnessed a year-to-date gain of almost 45%, showing a robust trend. However, platinum has gained just 3.7%.
In the longer run, we could expect platinum and palladium to be negatively impacted by the increase in demand for electric vehicles. The battery-operated vehicles could be a more environment-friendly option over the technology used in platinum- and palladium-based engines.
Although the negative impact of an increase in demand for electric vehicles would occur in the long run, the shorter-term prospects for platinum and palladium remain strong due to supply discrepancies.
Among the top ETFs that track the price of platinum and palladium are the Physical Platinum Shares ETF (PPLT) and the Physical Palladium Shares ETF (PALL). These two funds reported a year-to-date gain of 2.9% and 46.5%, respectively, on a year-to-date basis.