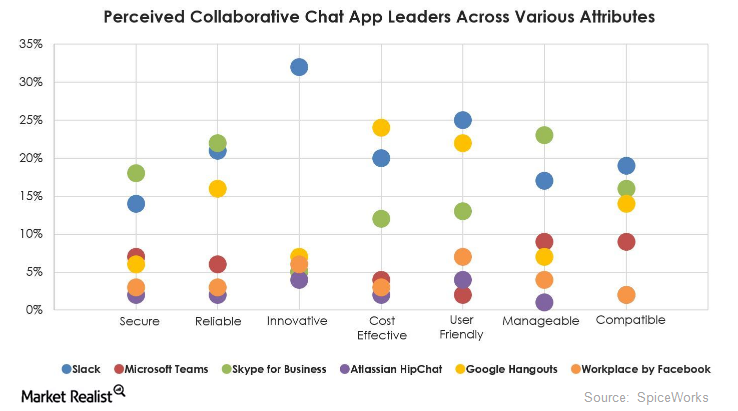 Why Did Oracle Partner with Slack?
Oracle's symbiotic strategic partnership with Slack
In the previous part of this series, we looked at Oracle's (ORCL) Database 18c and its likely impact on the company's dominance in the database space. Earlier this month, Oracle announced a partnership with Slack. Oracle aims to integrate its enterprise software offerings with Slack's workplace messaging app (application).
In this partnership, Slack's messaging tool will act as the interface for various Oracle business applications. Oracle's customers will get to use Slack to communicate with Oracle's chatbot. Later in the series, we'll take a closer look at Oracle's recently launched chatbot.
Article continues below advertisement
Currently, companies are struggling to find the best way to engage their employees to work together with increased efficiency and productivity. Through Slack, Oracle is trying a different way to engage its sales, ERP (enterprise resource planning) apps, and HR (human resources) offerings, as well as boost its presence in large organizations where Slack is already used.

Industry analysts' reaction to Oracle-Slack partnership
According to a Spiceworks survey of IT (information technology) professionals and as the presentation above shows, Slack and Microsoft's (MSFT) Skype for Business emerged as the top collaborative chat apps when IT professionals considered features such as security, reliability, and innovation.
According to Alan Lepofsky, vice president and principal analyst at Constellation Research, "If Slack can become the preferred messaging client for Oracle customers (and [is] pushed via Oracle's sales channels) then it could help seed Slack adoption within Oracle shops."
Lepofsky added, "Association with a key player in the enterprise messaging market can help Oracle's business applications be more appealing to people that are comfortable communicating and collaborating via activity streams."
Thus, Oracle's partnership with Slack could help the company cater to a younger audience. Apart from Oracle, Slack has a similar partnership with another enterprise software player, SAP AG (SAP).
Earlier this year, SAP and Slack teamed up with Slack, agreeing to create chatbots for SAP's Concur expense management.