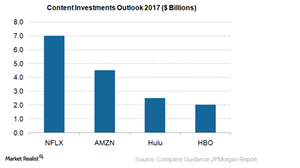 Netflix Battles Competition through Huge Investments
Raising investment guidance
In a bid to retain market share, Netflix (NFLX) continues to boost its investment goals by strengthening its content portfolio. The company raised its content budget to $7 billion in fiscal 2017 from its earlier target of $6 billion. It expects its budget to increase to $7 billion–$8 billion in 2018.
The company continues to expand its original shows, which in turn could help it retain subscribers and compete against other video streaming companies such as Amazon's (AMZN) Prime Video and Hulu.
Netflix has stated that it would like to have at least 50% original shows by the end of 2020. But original content requires huge upfront investments compared to rights secured from other channels and studio partners.
Article continues below advertisement
Content budgets for Netflix and its peers
At the beginning of 2017, Netflix decided it would spend $6 billion on content, which gradually increased to $7 billion by the end of the current fiscal year. Amazon is also ramping up its investments in content. According to a JPMorgan Chase report, Amazon, the leading online retail giant, is expected to spend $4.5 billion on content, while HBO (Home Box Office) (TWX) plans to spend $2 billion in 2017. Hulu plans to spend $2 billion in the same period.
The graph above clearly shows Netflix's investment in content compared to other online video players. It's clear from the chart that the company is far ahead of its peers in terms of content investments.
Entry of big players could ramp up competition
Apple (AAPL) and Facebook (FB) are also gearing up to get on the bandwagon with strong technology and investments. The Walt Disney Company's (DIS) 2018 plan to launch its own streaming service could be a huge threat to other video streaming operators. The popular Marvel franchise is in its portfolio.
Disney's decision to pull out of its content partnership with Netflix by the end of 2018 could be a huge blow to Netflix. The Marvel series Daredevil and The Defenders have huge popularity among Netflix viewers.
Earlier, the AMC network pulled its popular series The Walking Dead from Netflix. These factors could impact Netflix's subscriber growth. As a result, Netflix may be preparing for the competition by continuing to invest in more original content.