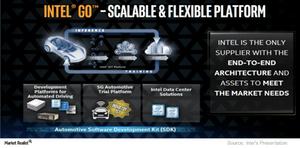 Intel-Qualcomm Competition Extends to 5G and Automotive
Qualcomm and Intel battle in the 5G space
Qualcomm (QCOM) has already taken the mobile market from Intel (INTC). Qualcomm is now venturing into the server processor market, which is dominated by Intel.
While Qualcomm is competing in these areas, Intel is looking to compete with Qualcomm in the 5G revolution, which would link smartphones, cars, drones, and industrial devices to the Internet simultaneously.
Both the companies are developing 5G modem, but Qualcomm is ahead of Intel in this space. The 5G network is expected to roll out in 2020. Within 5G, car connectivity is expected to be a much bigger opportunity than smartphone connectivity. With the rollout of autonomous cars, car connectivity would become even more ubiquitous.
Article continues below advertisement
Qualcomm and Intel battle in the autonomous car space
Qualcomm and Intel are both looking to tap the autonomous car market. In fiscal 3Q17, Intel completed the acquisition of Mobileye to get a lead in the ADAS (advanced driver assistance systems) space. Similarly, Qualcomm is in the middle of acquiring NXP Semiconductors (NXPI) to get a lead in the automotive semiconductor market. The combination of the two would create a formidable competitor for Intel in the automotive chip space.
Intel would participate in the autonomous car market by offering processors, a cloud network, and communication chips. Intel is already behind NVIDIA (NVDA) in the autonomous car processor space. With the combination of QCOM and NXP, Intel would have to fight for dominance in the communications chips for cars.
Proposed AVGO-QCOM deal a threat to Intel
An even bigger threat comes from the proposed acquisition of Qualcomm by Broadcom (AVGO). If this hostile takeover happens (Qualcomm initially rejected the deal), the three combined companies—QCOM, AVGO, NXP—would become a dominant player in areas like networking.
Cowen and Company analyst Karl Ackerman stated that the combined company would "own the majority of the high-end components in the smartphone market and they would have a very significant influence on 5G standards." The 5G standard is very important for autonomous vehicles and industrial IoT (Internet of Things).
IHS Markit analyst Egil Juliussen noted that the AVGO-QCOM merger would likely have a strong place in the car processor, car communication, and cloud network space, making it the third-largest player in the autonomous car space, after NVIDIA and Intel.
In the next part, we'll discuss Intel's memory business.