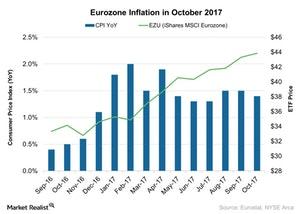 Is Improving Eurozone Inflation Minimizing Deflation Risk?
Eurozone inflation in October
On a year-over-year basis, the Eurozone (VGK) (N100-INDEX) inflation index was 1.4% in October compared to 1.5% in September 2017, according to data provided by Eurostat. The index was in line with the initial estimate of 1.4%.
The inflation figure in October was mainly due to improvements in the prices of food, tobacco, and alcohol. However, prices of energy and non-energy industrial goods declined in the month.
Core inflation, which is a major indicator for the European Central Bank in its policy decisions, excludes energy, tobacco, and unprocessed food. Core inflation was 0.9% in October 2017 compared to 1.1% in September 2017.
The gradual improvement in inflation is minimizing the deflationary pressure on the economy (IEV) (EZU). Other improving economic indicators are also signaling that the economy is healthier than in previous years.
Article continues below advertisement
Performances of various ETFs