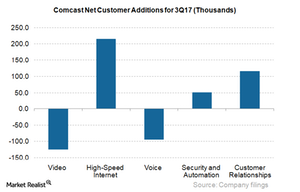 How the Hurricanes Affected Comcast's Cable Business
By Aaron Hemsworth

Updated
Impact of the hurricanes
Comcast's (CMCSA) cable business was severely impacted by Hurricane Irma and Hurricane Harvey in 3Q17. In the quarter, the company lost 125,000 video customers, 94,000 voice customers, and 79,000 triple- and quad-play residential subscribers.
The graph above shows net subscriber additions and losses in 3Q17. Houston, one of Comcast's largest markets, was devastated by Hurricane Harvey. Service was disrupted for some time, which may have resulted in subscriber losses. According to the FCC (Federal Communications Commission), Harvey caused loss of connection for 283,593 subscribers in coastal Texas and Louisiana. Nearly 4.7% of cell sites went down in storm-affected areas.
Hurricane Irma
Hurricane Harvey was followed by Irma, which mostly affected Florida, Alabama, and Georgia. According to the FCC, ~24.6% and 10.5% of cell sites in Florida and Georgia went down. More than seven million subscribers experienced service disruption in Alabama, Florida, and Georgia.
Comcast believes that without the hurricanes, it could have added 35,000 more customer relationships and retained 10,000 video subscribers in 3Q17. The overall impact of subscriber losses was reflected in the company's EBITDA (earnings before interest, tax, depreciation, and amortization) margins.
In the quarter, telecom carrier AT&T (T) lost 90,000 TV subscribers due to the hurricanes and stiff competition, and satellite TV operator Dish (DISH) lost 145,000 subscribers in Puerto Rico and the US Virgin Islands due to Hurricane Maria.