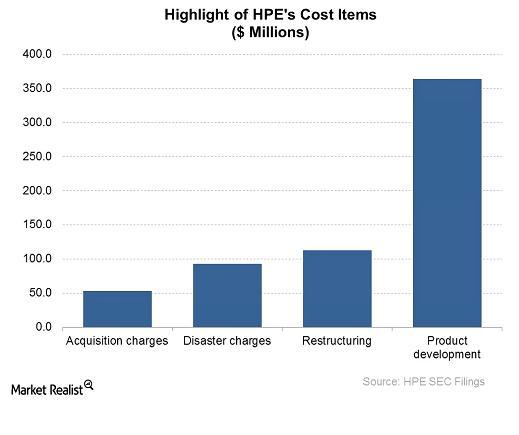 How Hurricanes Affected HPE's Earnings
HPE met a $93 million headwind from Hurricane Harvey
Perhaps US-based (SPY) IT vendor Hewlett Packard Enterprise (HPE) would have generated better profits in fiscal 4Q17 (October quarter) if not for the impact of natural disasters. The company posted net profit from continuing operations of $378 million, up from $326 million in the year-ago quarter.
In 4Q17, HPE faced a $93 million headwind stemming from costs tied to Hurricane Harvey, which ripped through the US Gulf Coast in late August. Wireless operators AT&T (T) and T-Mobile (TMUS) and consumer electronics retailer Best Buy (BBY) are among the American companies that have reported adverse impacts on their revenues and earnings due to the recent hurricanes.
Article continues below advertisement
HPE's expenses rose nearly 18%
Natural disasters were partially responsible for the 17.9% YoY increase in HPE's costs and expenses in 4Q17. Higher costs tied to acquisitions and selling and administrative functions also drove up the company's expenses in the latest quarter.
Acquisition-related charges were reported at $53 million. According to Crunchbase, HPE has closed five acquisitions so far in 2017 including the acquisition of flash storage provider Nimble Storage for more than $1.0 billion. The chart above highlights HPE's costs in 4Q17.
Eye on hybrid IT market
HPE said it expected the acquisition of Nimble Storage to enhance its competitiveness in the hybrid IT market. HPE's storage revenue rose 5.0% YoY in 4Q17.