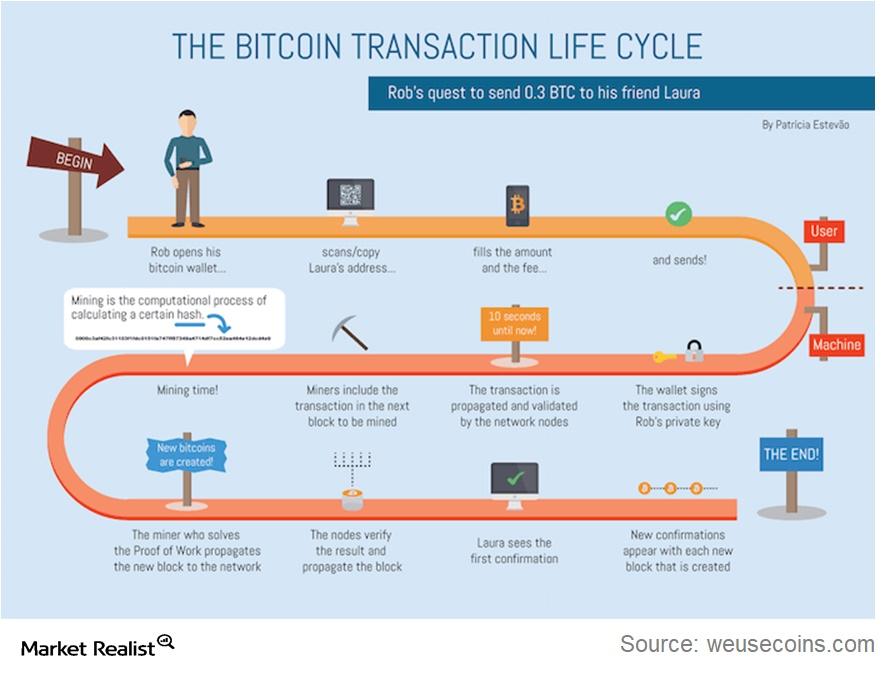 How to Transact in Bitcoin and Other Cryptocurrencies
How does a bitcoin transaction work?
If you have purchased bitcoin currency, and it's now in your digital wallet, there will likely be a time that you'll want to conduct a transaction with it. There are many merchants who are accepting payments through bitcoin today.
Some notable retailers who have been in favor of accepting bitcoin currency include overstock.com (OSTK), Expedia (EXPE), and Microsoft (MSFT). These retailers have a payment gateway or an exchange that facilitates transactions through bitcoin or have their own bitcoin wallets.
Article continues below advertisement
Initiating the transactions
Remember, bitcoin doesn't exist physically—it exists only in electronic form—and a transaction using bitcoin is like transferring funds from your bank account your friend's account. There's no physical cash transaction involved, but your bank debits the amount from your account and credits the same to your friend's account. There could be a small transaction fee for this service as well.
In the bitcoin world, your need for a bank is eliminated. All you need is your friend's bitcoin address (like a bank account number) to transfer ownership of a bitcoin amount to your friend's address. A private key, just like a password, is assigned to you, and using that, you're be able to authorize the transaction.
Who authorizes this transaction?
Miners who are mining around the clock would likely verify your transaction, and this could take up to ten minutes, which is the minimum time it takes to complete a block in the blockchain. These miners get rewarded with bitcoins for solving the block, and so they don't get charged a transaction fee.
Once the 21-million bitcoin mining limit is reached, there could be a possibility of adding a fee for processing transactions. But you typically don't get a receipt because the entire chain of transactions are recorded on the blockchain and are visible to all, though some companies have recently started offering receipts. In traditional banking, such a service is done by companies like Visa (V) or Mastercard, who charge a fee their services.
In the next part, we'll discuss the legality of bitcoin (ARKW).