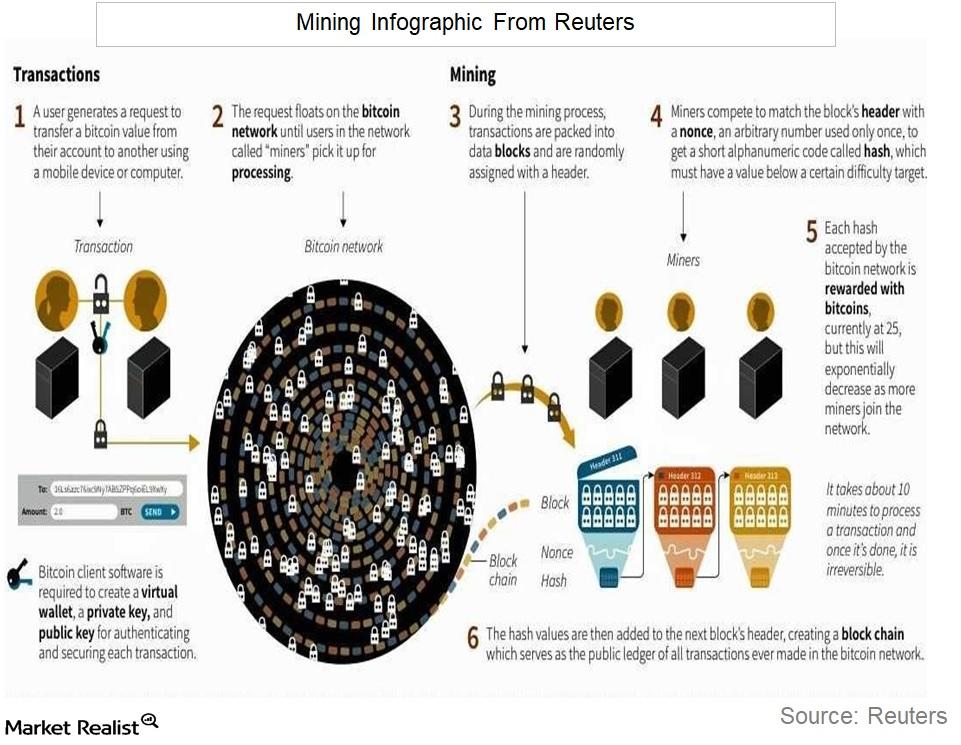 How Bitcoins Are Created Today
Introduction to bitcoin mining
Bitcoins are created by a process referred to as mining. It's easy to draw parallels to mining precious metals like gold (GLD), wherein large corporations invest a lot of capital to extract gold from the earth. In the bitcoin world, mining involves investing a lot of capital in computer hardware and competing with fellow miners to solve a complex mathematical problem.
Just like gold miners (GDX), bitcoin miners create small quantities of bitcoins by using their computer network. The first miner to solve the problem using his or her computer's computing power gets rewarded by the bitcoin network in the form of newly created bitcoins. Bitcoin mining requires a lot of resources and is a difficult process.
Article continues below advertisement
Blockchain and bitcoin mining
Whenever a new block of a transaction is created or verified by a miner, the entire block is added to a digital ledger within a data system referred to as a blockchain. There's no central database that stores all the information, but individual miners form a network without the need for a central agency.
In simple terms, blocks are like pages in a ledger where files, once entered, can't ever be altered. The ledger that stores all these blocks is a blockchain, and every time a new block is added, the length of the blockchain increases. This chain is visible to all miners, and everyone has a copy of the entire blockchain, making it difficult to manipulate by any single entity.
Direct beneficiaries of rising bitcoin mining
The sharp rise in bitcoin prices has attracted many investors to the field of bitcoin mining. Bitcoin mining, as mentioned above, requires high-capacity computing. In the initial years of mining, normal computers were used for mining, but at a later stage, it was discovered that high-end GPUs (graphical processing units) increased mining output.
Such GPUs, incidentally, are used by video gamers because high-end games require high processing power. Nvidia (NVDA) and Advanced Micro Devices (AMD) manufacture such GPUs and have witnessed a recent surge in demand. Notably, the iShares PHLX Semiconductor ETF (SOXX) is another route to gain exposure to this industry.
In the next part of this series, we'll go deeper into the concept of blockchain and why it's been dubbed "the new Internet."