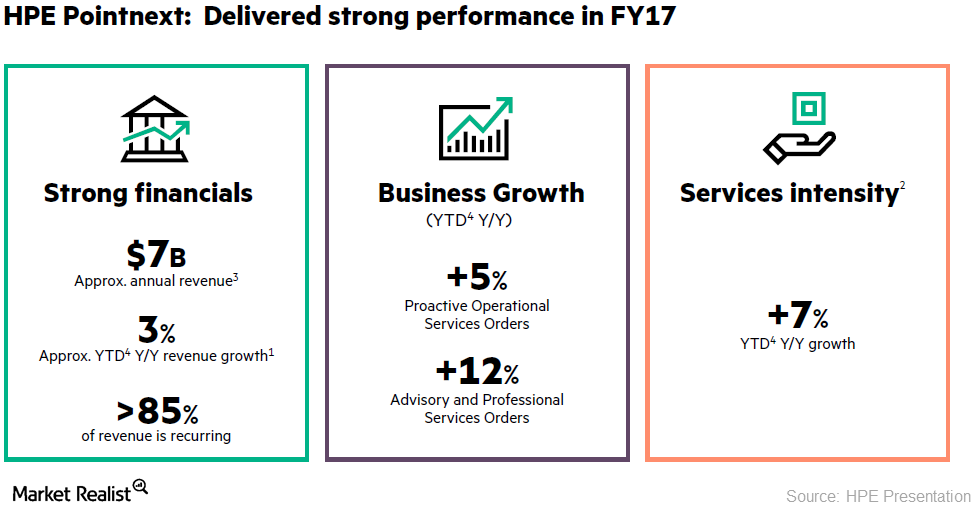 Why Hewlett Packard Enterprise Launched HPE Pointnext
HPE Pointnext launched in March 2017
In March 2017, hardware technology (QQQ) company Hewlett Packard Enterprise (HPE) launched HPE Pointnext, a technology service vertical aimed to drive digital transformation in companies. This business is also expected to deliver financial value to HPE, supporting its margins and revenue. HPE Pointnext will leverage the expertise of approximately 25,000 IT experts spanning 80 countries.
HPE Pointnext will make the adoption of emerging technologies in areas such as the IoT (Internet of Things), big data, cloud computing, hybrid IT, analytics, and the intelligent edge easier. According to HPE Enterprise Group executive vice president Antonio Neri, "Digital transformation is driving an incredible pace of change for our industry and our customers' needs are evolving just as quickly. Services are at the core of our ability to be that strategic partner to our clients and help them on their transformation journey."
Article continues below advertisement
Revenue of $7 billion in fiscal 2017
In fiscal 2017, HPE expects the Pointnext segment to generate revenue of $7 billion, indicating YoY (year-over-year) growth of 3%. Over 85% of its revenue is recurring in nature. While operational service revenue rose 5% YoY, advisory and professional service revenue rose 12% YoY in 2017.