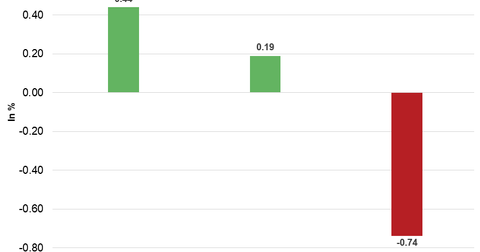 Asian Markets Started the Week on a Mixed Note
By Val Kensington

Updated
Economic calendar
8:00 AM EST – OPEC's monthly report
12:45 PM EST – Bank of Japan's Governor Kuroda speaks
2:00 PM EST – US federal budget balance (October)
9:00 PM EST – China's fixed asset investment (October)
9:00 PM EST – China's industrial production (October)
9:00 PM EST – China's retail sales (October)
Article continues below advertisement
China
After regaining strength last week and rising to fresh 22-month high price levels, China's Shanghai Composite Index started this week on a stronger note. The Shanghai Composite Index opened higher on Monday and closed at the highest levels traded since January 2016.
Market sentiment
China's market sentiment was strong last week due to several factors. October's stronger-than-expected inflation data cleared doubts about China's economic stability in the third quarter and improved the sentiment. China's government announced plans to relax foreign investors' ownership to boost the access to Asia's financial services industry. On Monday, the rally in banking stocks led the Shanghai Composite Index higher. Financial deregulation announced at the end of last week improved the banking sector's sentiment.
On November 13, the Shanghai Composite Index rose 0.44% and closed the day at 3,447.84. The SPDR S&P China (GXC) rose 0.54% on November 10.
Article continues below advertisement
Hong Kong
After consolidating for four consecutive trading weeks, Hong Kong's Hang Seng Index regained strength last week and rose to ten-year high price levels. The Hang Seng Index opened higher on Monday amid the improved market sentiment in China. Tech stocks supported the Hang Seng Index on Monday amid improved optimism about third-quarter corporate earnings.
The Hang Seng Index rose 0.19% and closed the day at 29,177.50. The iShares MSCI Hong Kong Index (EWH) rose 0.63%.
Japan
After gaining for nine consecutive trading weeks, Japan's Nikkei Index started this week on a weaker note. The Nikkei Index lost strength at the end of last week and continued the weakness to this week. The dented market sentiment, profit booking at elevated levels, and weakness in financial and tech stocks weighed on the Nikkei Index on Monday. The Nikkei Index closed the day at 22,380.99 with a loss of 1.3%. The iShares MSCI Japan (EWJ) fell 0.74% on November 10.
In the next part, we'll discuss how European markets performed in the early hours on November 13.