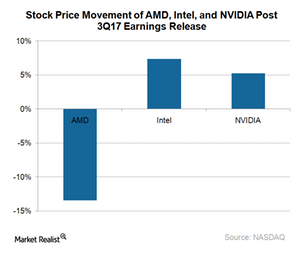 Why Did AMD's Stock Price Fall after Its Fiscal 3Q17 Earnings?
AMD's stock price momentum
Advanced Micro Devices (AMD) reported better-than-expected fiscal 3Q17 earnings. Despite this, its stock fell 13.5% in just one day after its earnings were released. The decline continued for four continuous days until AMD stock reached $10.89 on October 30, 2017.
The strong decline brought AMD's stock price growth in the red. Before the earnings release, AMD stock was trading at $14.25, which represents 25% growth YTD (year-to-date). Until that time, the stock was outperforming the S&P 500 Index (SPY), which has returned 18% YTD. However, the decline in AMD's stock price after its fiscal 3Q17 earnings sent the YTD returns to 0%.
Article continues below advertisement
Why did AMD stock fall after its earnings?
AMD reported better-than-expected fiscal 3Q17 earnings with revenue growing 34% sequentially. Its gross margin grew by two percentage points. The earnings figure didn't seem to trigger a double-digit sell-off. However, some analysts and investors raised concerns about the growth drivers in fiscal 3Q17 and its fiscal 4Q17 guidance.
They stated that the fiscal 3Q17 earnings growth was largely due to the IP (intellectual property) licensing revenue and increasing demand from cryptocurrency miners. These growth drivers aren't consistent and would likely fade.
Disappointing guidance
AMD expects its revenue to fall 15% sequentially to $1.4 billion in fiscal 4Q17. It expects the gross margin to remain flat at 35%. It represents a 14.6% sequential decline in the gross profit in dollar terms.
The disappointing gross margin guidance is something that could have triggered a sell-off, which has happened in the past. In May, AMD's stock price fell 24% in just one day after it released its fiscal 1Q17 earnings. The company reported a weaker gross margin guidance. It expected the gross margin to fall from 34% in fiscal 1Q17 to 33% in fiscal 2Q17.
Investors' concerns are valid. AMD hasn't been able to report continuous profits despite all of the revenue improvements. Investors are reacting aggressively to the lower gross margin.
Despite the double-digit decline in the stock price, AMD stock is expensive based on its fundamental valuation. Next, we'll discuss the fundamental value of AMD stock.