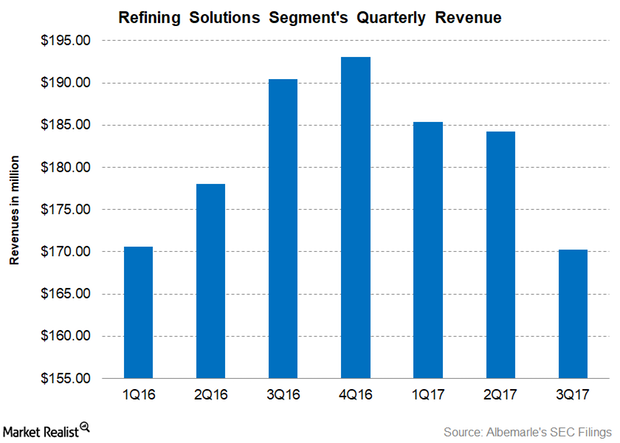 Why Albemarle's Refining Solutions Segment Fell in 3Q17
Albemarle's Refining Solutions segment in 3Q17
Albemarle's (ALB) Refining Solutions segment is the company's lowest revenue generator, accounting for 22.6% of its total revenues in 3Q17 compared to 29.1% in 3Q16. The segment reported revenues of $170.3 million in 3Q17, a fall of 10.6% on a YoY (year-over-year) basis. In 3Q16, the segment reported revenues of $190.5 million.
The decline in the segment's revenue was primarily driven by lower volumes and unfavorable pricing. The volumes were adversely impacted by Hurricane Harvey. The clean fuel technology business remained low, while the fluid catalytic cracking sales remained flat. However, the favorable foreign currency hedge strategy helped the segment's revenues improve.
Article continues below advertisement
Segment's adjusted EBITDA and margins
ALB's Refining Solutions segment reported adjusted EBITDA (earnings before interest, tax, depreciation, and amortization) of $43.1 million in 3Q17, a fall of 33.6% on a YoY basis. In 3Q16, the segment reported adjusted EBITDA of $65 million.
The segment's 3Q17 adjusted EBITDA margin fell sharply to 25.3% compared to 34.1% in 3Q16. That implies a decline of 880 basis points over the previous year, primarily due to higher input costs.
Outlook
Albemarle's Clean Fuels Technologies is expected to be strong in 4Q17 due to order timings, which could drive revenues. The segment's margin is expected to be under pressure until the costs are passed on to its customers.
Investors looking for diversified exposure to ALB can consider the Vanguard Materials ETF (VAW), which invests 1.1% of its portfolio in ALB. VAW also provides exposure to Monsanto (MON), Praxair (PX), and Air Products & Chemicals (APD) with weights of 5.1%, 3.6%, and 3.5% as of November 9, 2017.