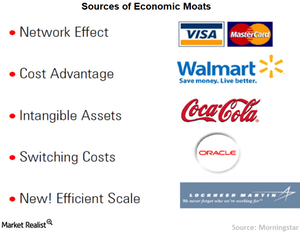 What's Driving Economic Moats
By VanEck

Updated
VanEck
"How Moats Translate into Sustainable Competitive Advantages" is a five-part moat investing education series that explores the primary sources of economic moats. The idea of an economic moat refers to how likely a company is to keep competitors at bay for an extended period. According to Morningstar Equity Research, there are five key attributes that can give companies economic moats, and which are viewed as sources of sustainable competitive advantages: 1) Network Effect; 2) Intangible Assets; 3) Cost Advantage; 4) Switching Costs; and 5) Efficient Scale. Here we explore the concept of "Efficient Scale."
Article continues below advertisement
Market Realist
The economic moat concept
The concept of moat investing refers to a company's ability to stay ahead of the competition by maintaining a sustainable growth rate while protecting its market share from competitors. In other words, moat companies (CVS)(LB) have a competitive advantage that helps them create long-term value for all the stakeholders involved in the business. A competitive advantage could be anything like access to a cutting-edge technology (XLK), the availability of quality raw materials at a cheaper rate, and brand or product or service differentiation.
Excess returns on capital
Looking at the company's historical performance is important when it comes to identifying whether a company has an economic moat (DIS)(PFE). According to Morningstar, companies that have consistently generated returns on capital higher than their cost of capital and have steadily increased the return on capital could have developed an economic moat.
Note that the competitive advantage created by such a company should be sustainable over an extended period. Otherwise, it won't be too long before a competitor creates a better product.
In this series, we'll discuss how efficient scale creates a long-term competitive advantage.