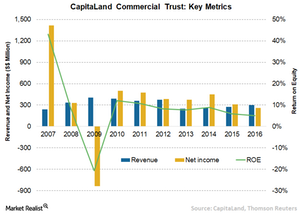 What's behind CapitaLand's Economic Moat
VanEck
CapitaLand Commercial Trust (CCT SP) is a Singapore based real estate investment trust (REIT) that owns 10 office properties in the city's central business district (CBD). Morningstar rates CapitaLand as a "narrow economic moat" based on efficient scale. The CBD is tightly controlled, and many financial and regulatory hurdles prevent competitors from building within the space. Morningstar elaborates, "On the supply side, construction of new supply is difficult, given the high existing building density and town planning restrictions. Construction risk and large capital expenditure requirements will discourage rational competitors from building new offices on an uncommitted or speculative basis." Demand for office space in Singapore's CBD remains high and is supported by the close proximity of multiple businesses and a top-notch mass transit infrastructure. Both domestic and international businesses continue to favor Singapore as a prime global business location.
Article continues below advertisement
Market Realist
CapitaLand is the largest commercial REIT in Singapore
CapitaLand Commercial Trust is the premier commercial REITs or real estate investment trusts (VNQ)(IYR) in Singapore investing in high-quality, well-located, and income-producing commercial properties. CapitaLand is the largest commercial REIT (ICF)(RWX) by market capitalization in Singapore. The company's portfolio of office and commercial buildings are in Singapore's Central Area and adjacent to Mass Rapid Transit stations, providing easy access to both transit and amenities.
Quality portfolio
CapitaLand's portfolio of assets includes Capital Tower, Six Battery Road, One George Street, Bugis Village, and Raffles City Singapore. These assets are occupied by diverse tenants ranging from banking and financial services to hospitality, energy, IT, and telecommunications. Since the company operates as a natural monopoly in Singapore's commercial property market, it has recorded consistently higher occupancy rates over the years. In 2Q17, the company's occupancy rate was around 97.6%—substantially higher than many other commercial REITs (SCHH) elsewhere in the world and the average rate of 94.1% in Singapore.
CBD likely to see a recovery
As business confidence strengthens in Singapore, the Central Business District is likely to see a sustained recovery of office demand and rental growth over the next few years. The potential growth would be supported by demand from sectors such as technology, financial, and co-working. The declining supply of business parks in the country could also provide some much-needed support to the market. Plus, increasing rentals in Hong Kong could make Singapore an attractive destination for corporates to set up their business hubs.