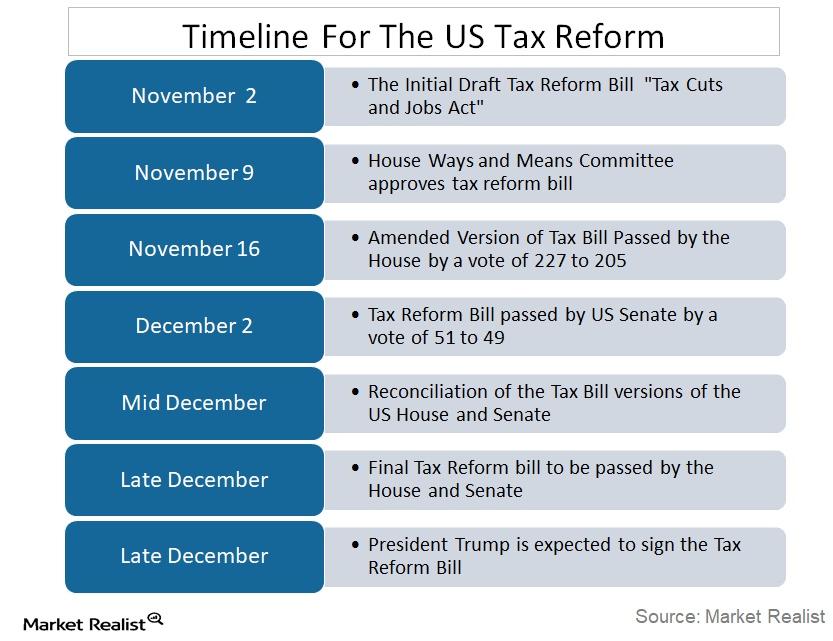 US Tax Reform: Everything Investors Need to Know
By Ricky Cove

Oct. 11 2020, Updated 12:01 p.m. ET
Another step closer to tax reform
The proposed US tax reform bill, or the Tax Cuts and Jobs Act, received approval from the US Senate on December 2. The late-night negotiations led to the approval with a vote of 51-49 in the US Senate. The Senate's version of the proposed tax reform bill had a few key differences from the version that was approved by the House of Representatives on November 16. Now, the road to tax reform leads to the Conference Committee. It has initiated the process of reconciling both versions of the proposed tax bill. The final version is expected to be rolled out by mid-December. Presidential approval is expected to turn the bill into a law before the Christmas break.
Article continues below advertisement
Differences between the House and Senate versions
There are a few key differences between the House and Senate versions:
Corporate tax reform – Both versions agree to cut corporate (LQD) tax from 35% to 20%. The House bill suggests that tax cuts start in 2018, while the Senate bill suggests that tax cuts start in 2019.
Individual tax brackets – The House bill cut the individual tax brackets to four with the changes being permanent. The Senate version retains the seven brackets at a lower rate with cuts expiring in 2025.
Alternative minimum tax – The House bill repeals both individual and corporate alternative minimum tax, while the Senate version leaves corporate alternative minimum tax unchanged and raises the tax slab for individuals until 2026.
Estate tax: Both versions of the bill double the tax slab. The House version repeals the tax in 2025 and the Senate version suggests reverting to the current tax rate in 2026.
In this series
Throughout this series, we'll analyze how the proposed tax reforms could impact the US economy and markets (QQQ). We'll discuss which sectors in the equity markets (SPY) could gain from the reform, how the bond market (BND) yields could move, and why the US dollar (UUP) could appreciate due to tax reforms.
In the next part of this series, we'll discuss why 137 economists wrote an open letter supporting the proposed tax reform.