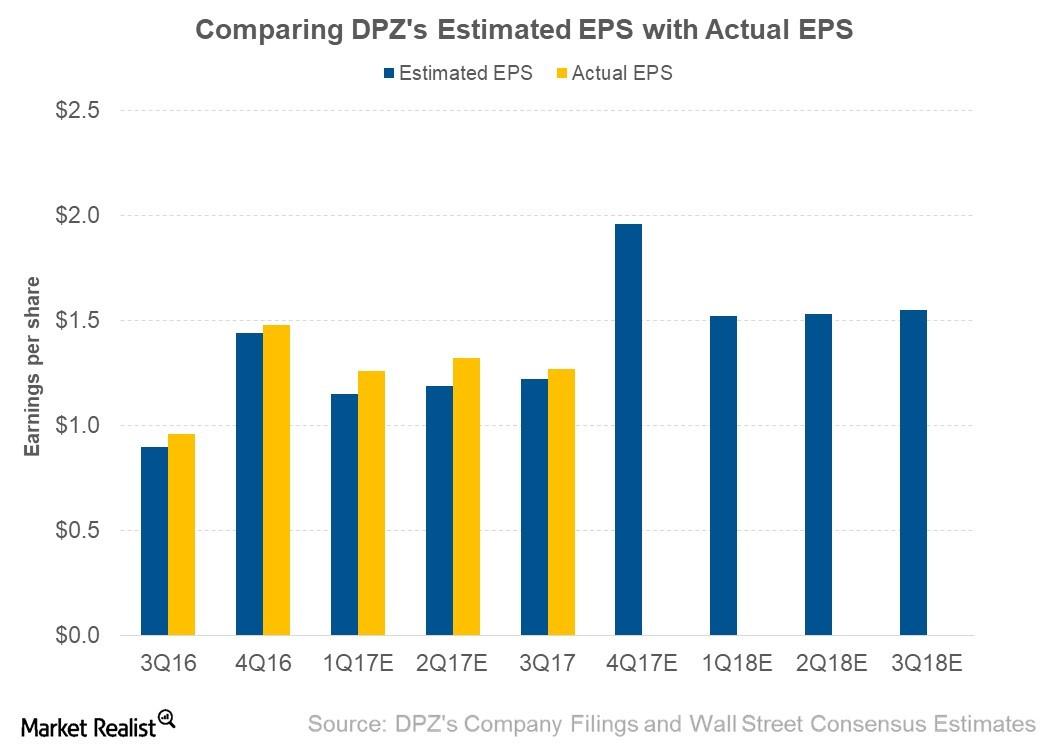 This Likely Drove Domino's 3Q17 EPS
3Q17 EPS
For 3Q17, Domino's Pizza (DPZ) posted adjusted EPS (earnings per share) of $1.27, which represents a 32.3% YoY (year-over-year) rise from $0.96 in 3Q16. Analysts were expecting the company to post EPS of $1.22.
Article continues below advertisement
EPS growth
Of the $0.31 EPS increase in 3Q17, $0.08 came from a lower effective tax rate, while $0.04 was due to the lower number of outstanding shares, and $0.21 was due to improvements in operating results. However, the rise in interest expenses due to a higher net debt balance negatively impacted DPZ's EPS by $0.02.
Due to the adoption of new equity-based compensation, the effective tax rate fell from 37.7% in 3Q16 to 33.3%. During the past four quarters, DPZ has repurchased ~$1.3 billion in shares. Remember, share repurchases reduce the number of shares outstanding and boost a company's EPS.
By the end of 3Q17, DPZ had ~$250.0 million available under its share repurchase program.
Peer comparisons and outlook
During the same quarter, analysts are expecting Papa John's (PZZA) to post EPS growth of 6.4%, while the EPS of Yum! Brands (YUM) is expected to fall 38.9%.
For the next four quarters, analysts are expecting Domino's to post EPS of $6.56, which would be a growth of 23.1% from $5.33. Revenue growth, EBIT margin expansion, and a lower effective tax rate are all expected to drive DPZ's EPS over the next four quarters.
Dividends
Notably, Domino's announced a dividend of $0.46 per share in 3Q17, at a yield of 0.95% and a payout ratio of 31.9%. In 4Q17, analysts are expecting DPZ to pay a dividend of $0.46, which would take the total for 2017 to $1.84, representing a growth of 21.1%.
Now let's take a closer look at the effect of DPZ's 3Q17 earnings on its valuation multiples.