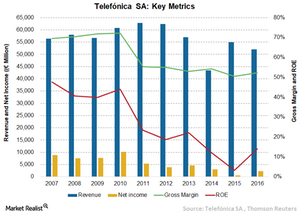 Telefonica Is a Dominant Player in Over 20 Countries
By VanEck

Oct. 20 2017, Updated 7:45 a.m. ET
VanEck
Telefonica SA (TEF SM) is headquartered in Spain and is one of the world's largest telephone operators reaching more than 350 million customers. It offers fixed and wireless telephony, Internet, and pay-television, predominately in Europe and Latin America. Morningstar gives Telefonica a "narrow economic moat" rating and writes: "In many Latin American wireless markets, it is in a duopoly with America Movil and it has 186.6 million wireless customers in this region alone. The large market shares that the two operators control makes it difficult for a new entrant to enter the market with the hope of gaining enough scale to compete profitably." Telefonica dominates its home market in Spain for fixed line telephony with a market share close to 60%, and its operating margins in Spain at around 41%, are among the highest in Europe.
Article continues below advertisement
Market Realist
Telefonica has a substantial market share
Telefonica SA (TEF) is present in 21 countries (IXP). The company's total customers include 273.8 million mobile phone (IYZ)(FCOM) accesses, 37.4 million fixed telephony accesses, more than 21.6 million Internet and data accesses, and more than 8.2 million pay-TV accesses. As the chart below shows, the company has a substantial market share in the countries where it operates.
An industry with high entry barriers
Telefonica is operating in an industry with very high to medium entry barriers, which may mean that the company has many characteristics that are very hard to replicate. The characteristics competitors may not be able to replicate include exclusive operating rights, extensive infrastructure, a strong brand image, and the ability to keep costs low. Though the company's gross margin has declined from 69.5% in 2007 to 52.3% in 2016, it's still on a higher side. The decline in gross margin may be due to heavy investment in telecom (XTL) infrastructure and brand building.
However, the company's profitability and return ratios have remained erratic over the years. In recent years, the company has restructured its operations, incurring very high non-recurrent costs that are expected to generate additional savings and improve efficiency.
Narrow moat likely to persist
The narrow moat advantage that Telefonica enjoys is likely to persist since the company has strengthened its financial structure in recent years with the strong acceleration of its free cash flow generation, raised adequate long-term funds, restructured operations, and deleveraging balance sheet.