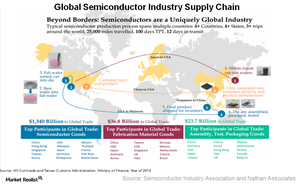 How the Repatriation Tax Proposal Could Benefit US Semiconductor Companies
By Puja Tayal

Oct. 18 2017, Updated 9:39 a.m. ET
Why the US semiconductor industry wants tax reform 
The semiconductor industry is a capital-intensive one, with companies spending significant parts of their budgets on R&D (research and development) and capex (capital expenditure). Intel (INTC) spends almost $20 billion every year on R&D and capex.
The industry's supply chain is spread around the world, with IP (intellectual property) concentrated in the US, manufacturing in South Korea (EWY) and Taiwan, packaging and testing in Japan, and consumption in China (FXI).
The US semiconductor industry is a world leader, garnering an ~50% share of the global semiconductor market. However, the 35% corporate tax puts US companies at a competitive disadvantage against its foreign rivals.
These foreign firms enjoy lower corporate tax rates, robust R&D incentives, and favorable international tax systems that exempts foreign earnings from their home country's taxes.
As a result, the US semiconductor companies have been waiting for a favorable tax code that gives them similar benefits as their foreign counterparts, thereby increasing their competitiveness.
Article continues below advertisement
Impact of the tax reform plan on US semiconductor industry
The Republican tax reform plan has proposed to reduce the corporate tax from 35% to 20%, thereby reducing the tax burden on US companies and increasing their competitiveness.
Repatriation tax
The reform plan has also proposed a one-time lower repatriation tax on all foreign earnings held by US companies overseas. This tax is payable over a ten-year period. This is positive news for US semiconductor companies, which earn a major portion of their revenues from abroad and hold those earnings abroad to reduce taxes.
The repatriation tax would help companies return cash to the country without footing a heavy tax bill. Qualcomm (QCOM), Intel, NVIDIA (NVDA), and Applied Materials (AMAT) would benefit the most from this provision, as most of their cash is held abroad.
The US government aims to encourage companies to invest in the country, but the outcome remains to be seen. In 2004, President George W. Bush reduced the repatriation tax to 5.25% to encourage companies to bring back ~$312.0 billion in cash. However, most companies used this cash for share buybacks and dividends instead of capital investment and employment generation.
Next, we'll look at other aspects of the tax reform plan that would impact semiconductor companies in the US.