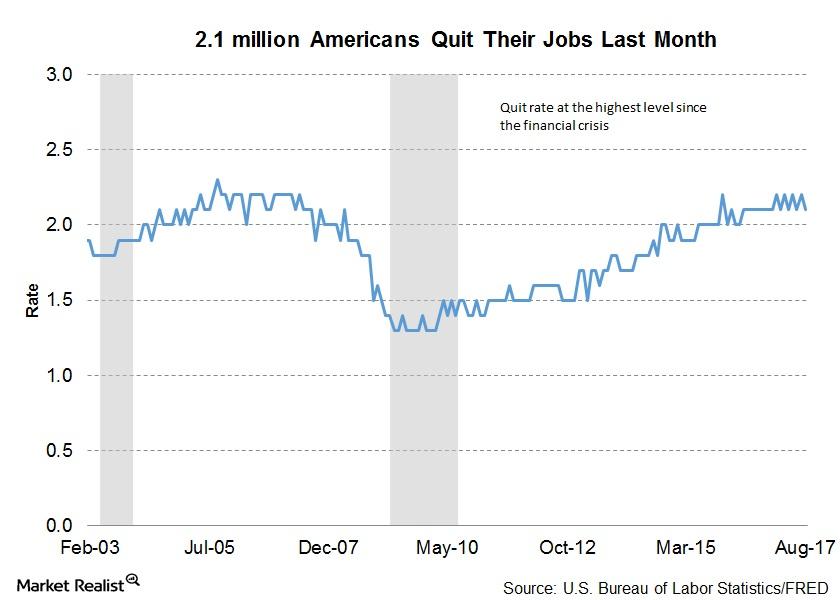 How Many Americans Quit Their Jobs in August?
2.1 million Americans quit their jobs
As per the latest JOLTS report, about 2.1 million Americans quit their jobs voluntarily in August, which was a decrease of 70,000 from the previous reading. Approximately 2.1% of the total non-farm employees quit their jobs. What does this indicate?
Employees tend to quit their jobs only when they are confident about finding a better opportunity. Even a moderately higher quit rate is a positive sign. However, a sudden jump in the quit rate in any industry must be analyzed a little deeper, as workers leaving in large numbers could mean they are worried about the future of the industry they work in.
Article continues below advertisement
What does the recent quit rate indicate? 
The quit rate of 2.1% for August was among the highest readings for this index. The mining (XME) and logging (CUT) industries saw the highest quit rates in July but saw some relief in August. The largest quit rate in August was in the accommodation and food services (PBJ) sector, followed by the leisure and hospitality (PEJ) sector. There was no seasonality reported in this month's JOLTS data, indicating that the people who quit could have done so with a better offer in hand.
The JOLTS report also segregates data based on location. The four regions are the Northeast, South, Midwest, and West. The quit rate was mostly unchanged in three out of the four divisions. The southern region, which was impacted by the recent hurricanes, saw a decline in the quit rate from 2.6% to 2.3% of the workforce.
Key takeaway from this report
The recent JOLTS report data indicate that the US economy and companies (QQQ) continue to be in a good state. The number of job openings was high, and the unemployment rate remained low. The hurricanes' impact on the job market was limited, which could mean that the US Fed could continue with its tightening plans in December.