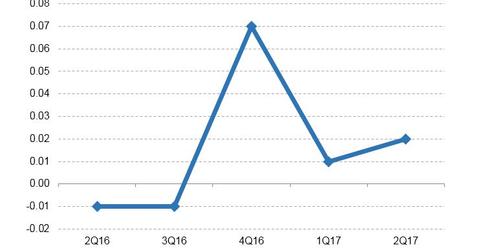 Groupon's Buyback Program: 14.5 Million Shares in 6 Months
By Neha Gupta

Updated
Countering the effects of stock dilution
Repurchasing shares is one of the ways that Groupon (GRPN) returns value to its shareholders. Repurchases, or buybacks, also enable a company to offset the dilutive effect on its stock by stock-based compensation and fundraising through convertible debts.
Because repurchases reduce the outstanding share count, they create an atmosphere for the stock price to rise due to the supply–demand imbalance in the stock market.
Article continues below advertisement
Groupon buys back 14.5 million shares in six months
In 2Q17, Groupon spent $24.8 million to buy back 7.2 million shares. The repurchase was partly responsible for the improvement in Groupon's adjusted EPS (earnings per share) in the quarter because there were fewer outstanding shares than in 2016. Groupon posted adjusted EPS of $0.02 in 2Q17, compared to its EPS of -$0.01 in 2Q16, as shown in the chart above.
During the first half of 2017, Groupon repurchased a little over 14.5 million shares and spent $50.9 million on the program. At the end of 2Q17, Groupon had $144.3 million remaining under its existing repurchase authorization.
Room for Groupon to extend its repurchase program
Seeing how Groupon fared in 2Q17 in terms of cash generation, there seems to be room for the company to continue returning value to its shareholders through share repurchases. At the end of 2Q17, Groupon's free cash flow for the trailing 12 months stood at $36.4 million.
Free cash flow is what remains of operating cash flow after accounting for a company's capital expenditures. So, studying free cash flow trends can provide clues about the future of a company's dividends or repurchases.
Among Groupon's e-commerce and online advertising rivals, Amazon (AMZN), eBay (EBAY), Yelp (YELP), and Facebook (FB) posted 2Q17 adjusted EPS of $0.40, $0.45, $0.25, and $1.32, respectively.