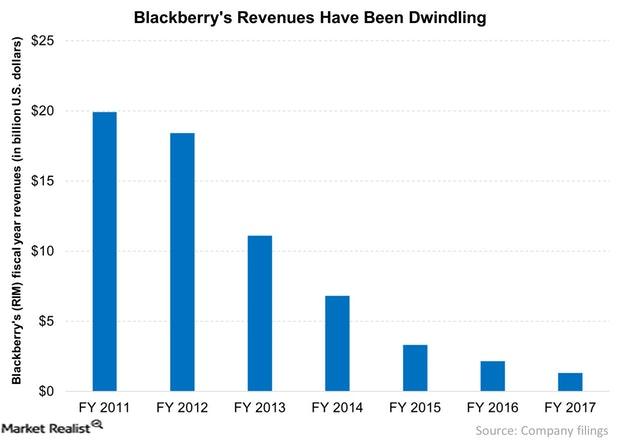 The BlackBerry Motion: Competition with Apple and Samsung
By Sanmit Amin

Oct. 10 2017, Updated 5:01 p.m. ET
BlackBerry's first all-touchscreen smartphone
On Sunday, October 8, TCL Communication officially announced the all-touchscreen, water-resistant BlackBerry Motion smartphone at GITEX Technology Week in Dubai. The device will be made by the Chinese electronics manufacturer under the BlackBerry brand. BlackBerry (BBRY), which had been known as Research in Motion or RIM, entered an agreement with TCL that allows BlackBerry to license its security software and service suite, as well as related brand assets, to TCL. TCL designs, manufactures, sells, and provides customer support for BlackBerry-branded mobile devices.
Blackberry Motion will be initially available only in the Middle East and will cost around $460. It will have a large 5.5-inch screen and a huge 4,000 mAh battery. By comparison, Samsung's (SSNLF) Galaxy S8+ has a 3,500 mAh battery, while Apple's iPhone 8 Plus has a 2,675 mAh battery.
Article continues below advertisement
How BlackBerry has managed to survive
BlackBerry is making a comeback as a software company under the stewardship of CEO (chief executive officer) John Chen. The company performed admirably in its most recent quarter. But the company's hardware market share remains negligible, after the rise of Apple's (AAPL) iPhone wiped out the company's smartphone market share.
The Motion will be the second smartphone of the new BlackBerry. It released its KEYone in May 2017—a smartphone had a QWERTY keyboard under a touchscreen. The Motion is a pure touchscreen.
While the Motion's battery life is a plus point, there are several other smartphones in the same price range that offer faster and better performances, and so the Motion will likely only appeal to die-hard Blackberry fans.
Correction: An earlier version of this article claimed that BlackBerry sold its branding rights to TCL. This article has been updated to better reflect the nature of the agreement.