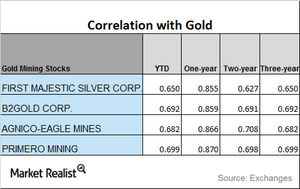 A Correlation Analysis of Some Important Miners
Precious metal funds
When we look at the performances of mining shares, it's important to consider their correlations to gold. In this part of the series, we'll look at Sibanye Gold (SBGL), Gold Fields (GFI), Agnico-Eagle Mines (AEM), and Primero Mining (PPP).
The famous gold- and silver-based funds that continue to have a strong correlation to precious metals include the SPDR Gold Shares (GLD) and the ETFS Physical Silver (SIVR). These are often used as an alternative to gold and silver investments. The funds have risen 12.0% and 7.9%, respectively, YTD (year-to-date).
Article continues below advertisement
Correlation with gold
Among the miners that we're looking at in this part of the series, Sibanye Gold has the lowest correlation to gold on a YTD basis, while Gold Fields has the highest correlation to gold.
Among these mining stocks, only Agnico-Eagle Mines and Gold Fields have risen in their correlations to gold over the past three years. The other two miners have a mixed trend in their correlations to gold.
Gold Fields has a three-year correlation of 0.74 to gold and a one-year correlation of 0.92. The correlation of 0.92 suggests that almost 92.0% of the time during the past year, Gold Fields has moved in the same direction as gold.
The past year has witnessed a considerable rise in the correlations of the mining shares to gold.