Why NVIDIA Is Eyeing Growth Opportunities in AI City
AI city NVIDIA (NVDA) is looking to expand the application of AI (artificial intelligence) and put it at the core of the future data-centric economy. The company is thus exploring the possibility of using AI in city management. In May 2017, it announced its Metropolis Edge-to-Cloud platform, which is a compilation of several hardware products—like Jetson, […]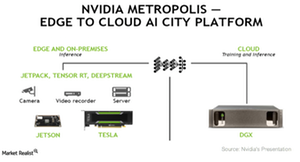 AI city
NVIDIA (NVDA) is looking to expand the application of AI (artificial intelligence) and put it at the core of the future data-centric economy. The company is thus exploring the possibility of using AI in city management. In May 2017, it announced its Metropolis Edge-to-Cloud platform, which is a compilation of several hardware products—like Jetson, Tesla, and DGX—and SDKs (software development kits).
Article continues below advertisement
Article continues below advertisement
NVIDIA has also launched a Metropolis Software Partner Program, which brings together several software partners that have production-ready and field-proven solutions. NVIDIA wants to leverage over one billion video cameras around the world by 2020 to solve law enforcement and traffic management problems.
Commercial use
The Metropolis Software Partner program offers applications that provide high-level customization, enabling enterprises to address customers' individual needs.
Deepvision AI identifies brands, logos, and products, analyses it, and provides personalized content to retail customers. Xjera can count people and vehicles with high accuracy, providing enterprises with high levels of customization and robust security.
Article continues below advertisement
Law enforcement
The Metropolis Software Partner program includes detection and recognition applications that can make law enforcement more effective. Icetana and Omni AI can detect anomalies in videos on a real-time basis and alert operators. While Icetana is used for surveillance videos, Omni AI is used for video, SCADA (supervisory control and data acquisition), cyber, image, and analytics.
OpenALPR automatically identifies license plates, thereby accelerating law enforcement.
Facial recognition
Herta Security can do facial recognition in crowded public places. Sensetime can do facial recognition for public safety, retail, and access control.
VisionLabs can perform cross-platform facial recognition for both controlled and uncontrolled scenarios. A controlled scenario is an airport or a corporate building, where an identity check is done at the gate. An uncontrolled scenario is an open public space like a retail shop or roads where no identity check is done.
Vocordcan performs real-time biometric facial recognition with very high accuracy, making it ideal for high-security places.
Traffic management
The program would also use real-time video-based applications to control traffic and do targeted preventative maintenance of roads and bridges. Sensen Networks offer real-time parking and speed enforcement solutions for cities.
The entire Metropolis platform is based on analyzing video content. The program has a Briefcam application that accelerates this process by doing a quick video review and searches and provides alerting and quantitative video insights in real time.
Intel (INTC) and Qualcomm (QCOM) are following NVIDIA in the AI space, having made major acquisitions to catch up in autonomous cars. It will not likely be long until the two companies follow NVIDIA in AI city.