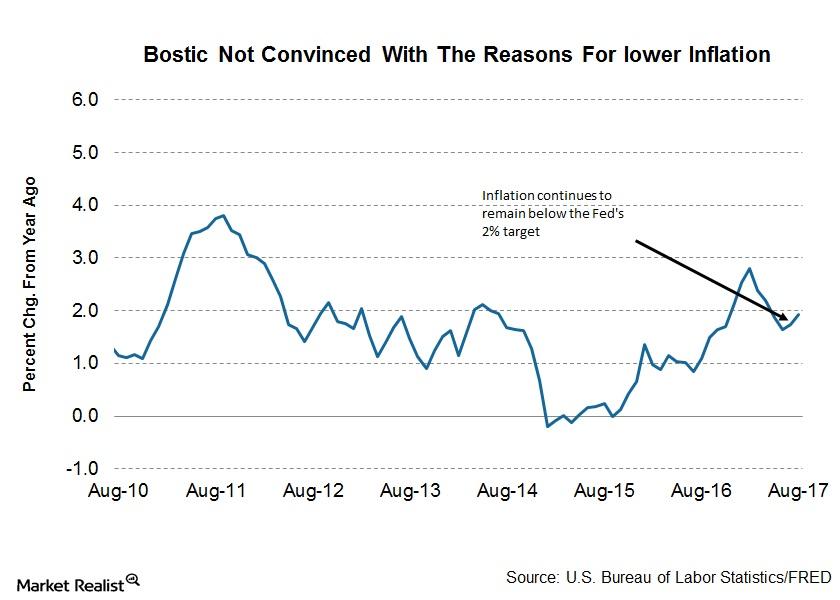 Why FOMC's Raphael Bostic Is Not Happy with Low Inflation Explanations
By Ricky Cove

Oct. 3 2017, Updated 7:41 a.m. ET
Raphael Bostic's take on low inflation
Atlanta Federal Reserve President Raphael Bostic recently shared his thoughts on the weaker-than-expected inflation (TDTT) across the globe. Bostic dealt with various reasons that have been cited as reasons for the lower level of inflation (TIP), even questioning the common ones (VTIP), such as advances in technology, increased competition, and accommodative monetary policy.
Article continues below advertisement
Is monetary policy not too accommodative?
Bostic claimed that the current monetary policy is not accommodative, as certain quarters of the labor markets continue to suffer. He pointed out the recent increase in the labor force participation rate was concentrated among women with a high school education or less, who have remained on the sideline before.
Although this development is encouraging, there needs to be further improvement in the labor force participation rate before we accept the claim that the US economy is at full employment, according to Bostic.
Bostic's keeping an open mind
Bostic said that he's not convinced that the ongoing structural changes in the global economy, influenced by technological advances, don't provide an explanation for the recent lower inflationary (SCHP) trends.
As far as the continuation of rate hikes, Bostic says, he'll keep an open mind and let the incoming economic data help shape his outlook on monetary policy.
Notably, markets are pricing in a 76% probability that the Fed could raise the interest rate in December. We'll have to wait until December to know the outcome, but it could very well be dependent on inflation (STIP) growth.