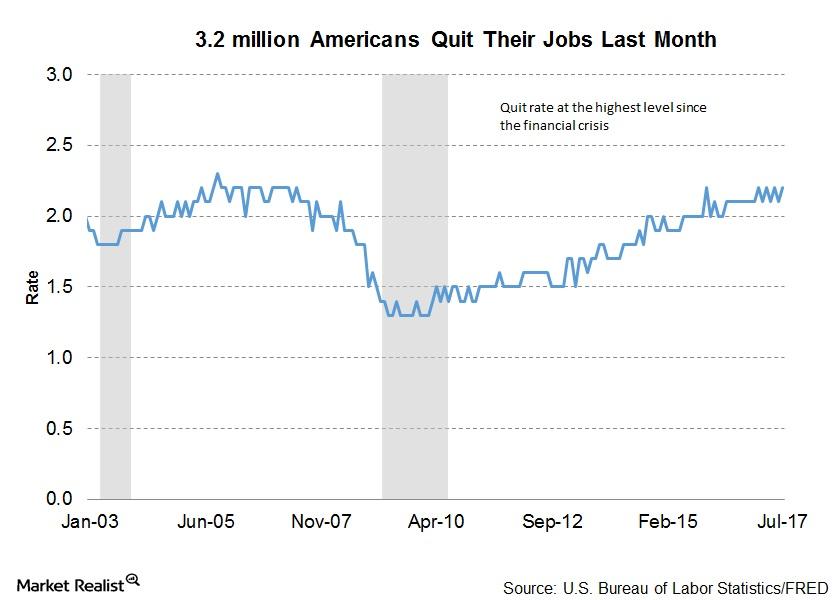 Why Are So Many Americans Quitting Their Jobs?
3.2 million Americans quit their jobs in July
As per the latest JOLTS report, about 3.2 million Americans quit their jobs voluntarily last month. This is an increase of 0.1 million from the previous month. What does this number mean?
Employees usually quit for a better opportunity, or they're confident they can find employment. Employees usually don't quit when there are limited chances of finding another job. For instance, during the recent Great Recession, the quit rate was the lowest since the inception of this survey.
Article continues below advertisement
What does the recent quit rate indicate?
The quit rate of 2.2% for July was among the highest readings for this index. Some employees voluntarily leaving their jobs is a healthy sign for the US economy. The mining (XME) and logging (CUT) industries witnessed the most employees quitting. A close second was the finance (XLK) and insurance sectors (KRE). There was no seasonality reported in this month's JOLTS data, indicating that the people who quit could have gotten better job offers. We can use such an increase to understand the health of a particular industry. The sectors that have witnessed the fewest employees quitting are educational services and arts, entertainment, and recreation (PEJ).
Key takeaway from this report
The recent JOLTS report data indicate that the US economy was in a good state. The number of job openings was high, and the unemployment rate remained low. Next month, the impact of Hurricane Harvey and Irma is likely to drag job openings lower. This phase could be temporary until the battered regions get back on their feet. The Fed, however, is likely to hold off on any monetary tightening until the job market gets back to normal.