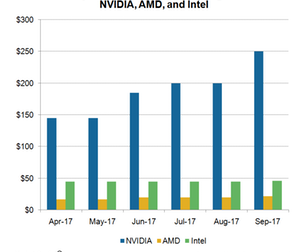 Why Analysts Are Bullish on NVIDIA
By Puja Tayal

Updated
Analysts go bullish on NVIDIA
NVIDIA's (NVDA) stock has risen nearly threefold in the past year. Some of this increase was backed by strong growth in earnings, but strong growth in data center and AI (artificial intelligence) and exponential demand from cryptocurrency have helped.
Wall Street analysts have gone bullish on NVIDIA, with four analysts having raised their price targets for the stock to $200 or above. Analysts have increased their bullish price target from $185 in June 2017 to $250 in September 2017 as the stock crossed all the bullish targets. The stock is now trading above the June bull target of $185.
Analysts also increased their bullish price target for Intel (INTC) and Advanced Micro Devices (AMD) in September 2017.
Article continues below advertisement
Bank of America Merrill Lynch
On September 18, 2017, NVIDIA's stock peaked at $191 as Bank of America Merrill Lynch analyst Vivek Arya raised his price target on the stock from $185 to $210. Arya stated that the company's product leadership in the gaming, data center, and AI markets will likely drive its growth in the future.
Gaming
Referring to his proprietary survey of Steam gaming and online graphics cards, Arya also stated that the adoption rate of NVIDIA's Pascal GPUs (graphics processing units) is below that of its predecessor Maxwell, which has an adoption rate of 45%. This shows that Pascal has yet to tap a wide market.
The survey also highlighted that over 95% of the top-selling cards come from NVIDIA. The ASP (average selling price) of these cards rose 14% on a month-over-month basis.
Arya also stated that NVIDIA has a lot of room to boost its ASP amid growing demand for eSports and a new generation of video consoles priced at $500 and above.
Article continues below advertisement
Data center
Arya also expects NVIDIA's data center revenues, which have tripled over the past year to nearly $1.4 billion, to rise to $4 billion by fiscal 2020. He expects NVIDIA's capital spending on the cloud to rise 16.5% in fiscal 2018 and 21% in fiscal 2019.
AI
Arya is most optimistic about AI opportunities and believes that NVIDIA's first-mover advantage will likely make it a dominant supplier in the $30-billion AI chip market. Arya stated that NVIDIA's GPUs are increasingly being used in the healthcare industry for predictive analytics, image scanning, and pathology assessments. He also noted that NVIDA's new Volta V100-based DGX-1 delivers significant performance improvements from its predecessor, the Pascal P100. The new GPU has also received positive reviews from third-party reviewers.