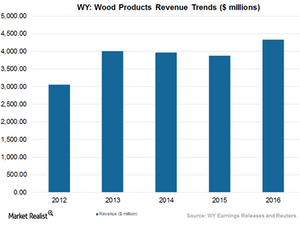 What Strong Wood Means for Weyerhaeuser's Momentum
Housing sector pushing timberland sector
Timberland REIT (real estate investment trust) Weyerhaeuser (WY) has been able to use the opportunities of the booming housing sector to its advantage. WY reported higher-than-expected results in 2Q17 and 1H17.
The recent growth in the housing sector has driven business for REITs including Weyerhaeuser, Rayonier (RYN), Resolute Forests Products (RFP), and International Paper (IP) for the past few quarters.
Article continues below advertisement
WY's timberlands are spread across the US, and the REIT has been using technical advances to increase operational excellence. Of course, wood products made from the timberlands contribute significantly to WY profits. WY manufactures high-quality softwood lumber and engineered wood products as well as medium-density fiber boards for residential purposes, distributing them mainly in North America. WY operates 17 distribution centers in the US.
In 2016, the company closed its distribution centers in Baltimore, Chicago, Pittsburgh, and St. Paul, but the spike in housing starts over the past few months has led to an increase in the demand for WY's wood products.
Demand drives wood products
Wood products are required primarily for new residential buildings but also for the repair and remodel markets. The demand for wood products has witnessed an uptick in 2017 compared to what we saw in 2015. Sales for random lengths of framing lumber rose 4% YoY (year-over-year) in 2016, while OSB (oriented strand board) sales rose 29% YoY in 2016.
In 2Q17, WY's Wood Products segment contribution to WY's earnings rose 38%, and the segment's EBITDA (earnings before interest, tax, depreciation, and amortization) rose 32% YoY. Engineered wood products also saw an improvement in 2Q17, backed by efficient supply distribution.
More opportunities in the future?
Notably, the anti-dumping duty that's been imposed on the industry is expected to boost demand for WY's wood products because the duty imposed should push the price of imported lumber products higher.
WY, RYN, and IP make up ~20% of the iShares Global Timber & Forestry ETF (WOOD), which has net assets worth ~$278.3 million.