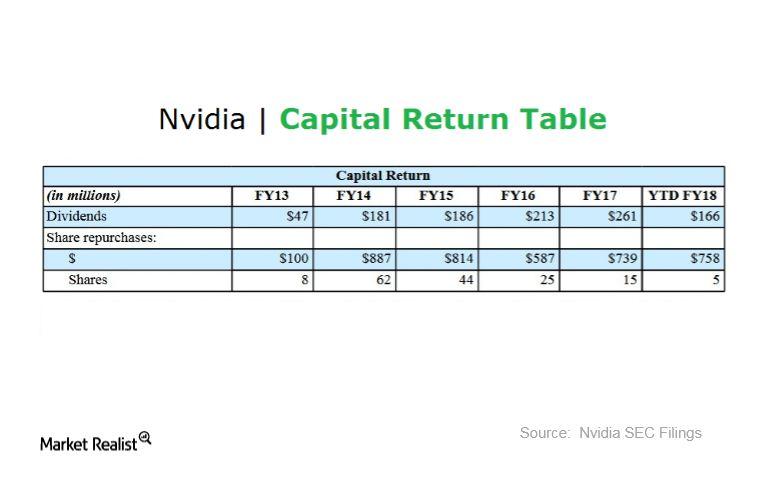 What It Means to Be a Nvidia Shareholder
Nvidia returns $924 million
Nvidia's (NVDA) shareholders reap benefits from the stock in a number of ways. They receive dividends and unlock capital gains through the company's stock repurchase program (QQQ) (XLK), which has been around for a few years now.
In the first half of fiscal 2018 or fiscal 1H18 (which corresponds to the first half of calendar 2017), Nvidia distributed $166 million in dividends and repurchased shares worth $758 million. The combined payout to Nvidia shareholders for that six-month period was $924 million.
Article continues below advertisement
Returning 90% of free cash flow
Since Nvidia introduced its capital return program in fiscal 4Q13, its cumulative capital return hit ~$4.9 billion as of fiscal 2Q18. Otherwise put, Nvidia has returned to its shareholders 90% of its free cash flow since fiscal 2013, and the company's capital returns continue.
For fiscal 2018, Nvidia intends to return nearly $1.3 billion to shareholders through a combination of dividends and repurchases. As part of this payout commitment, Nvidia is planning to distribute a quarterly cash dividend of $0.14 per share on September 18, 2017.
Keeping the dividend tap flowing
But the sustainability of Nvidia's capital returns depends on its ability to continue generating free cash flow. Nvidia, which is competing with Intel (INTC) and Advanced Micro Devices (AMD), has to balance its cash allocation between returning capital to shareholders and investing in more growth. The company's capital expenditures reached $55 million in fiscal 2Q18.
Nvidia is banking on revenue growth and efficient operations to continue generating shareholder value. For growth, Nvidia is eyeing spending by cloud computing providers like Amazon.com (AMZN) to drive the sales of its data center solutions.