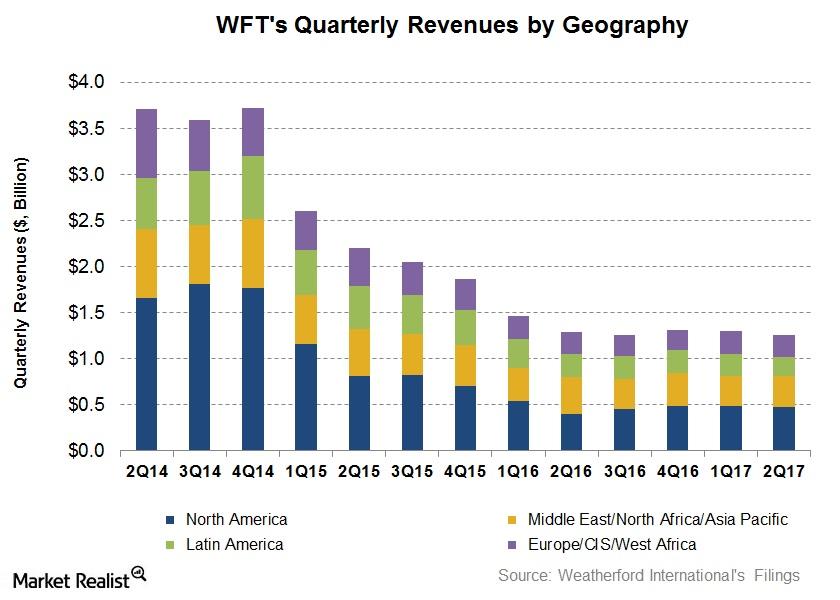 Weatherford International's Value Drivers in 2Q17
Weatherford International's revenue
Revenues from Weatherford International's (WFT) Latin American region fell the most by 18.5% from 2Q16 to 2Q17. Its North American region saw robust revenue growth of 18.5% during the same period. Schlumberger's (SLB) 2Q17 North American revenues rose 27.0% in 2Q16. You can read about SLB's 2Q17 earnings in Market Realist's Why Schlumberger's 2Q17 Earnings Beat Estimates. WFT makes up 0.25% of the ProShares Ultra Oil & Gas (DIG). DIG has fallen 18.0% in the past year compared to a 36.0% fall in WFT stock during the same period.
Article continues below advertisement
Weatherford International's operating income
As for operating income, WFT's North American region turned to a $2.0 million profit in 2Q17 compared to a $101.0 million operating loss the previous year. WFT's Latin American operations witnessed a $35.0 million operating loss in 2Q17 over a small profit margin in 2Q16.
Positive value drivers in 2Q17
The North American rig count in 2Q17 was nearly 14.0% higher than 1Q17. That positively affected WFT's drilling and completion product sales.
There was less loss in WFT's Pressure Pumping segment following the shut-down of operations in 4Q16.
There were savings from WFT management's cost-cutting measures over the past quarters.
Upstream activity increased in Argentina.
The Land Drilling Rigs segment had a higher rig utilization and a lower cost structure.
Negative value drivers in 2Q17
There was a negative effect from the change in accounting for revenue in Venezuela.
There was a decrease in Secure Drilling product sales in Europe.
Next, we'll see how US upstream companies' capex (capital expenditure) affected WFT's operating margin. We'll also see how dependent Weatherford International's business is on the US rig count.