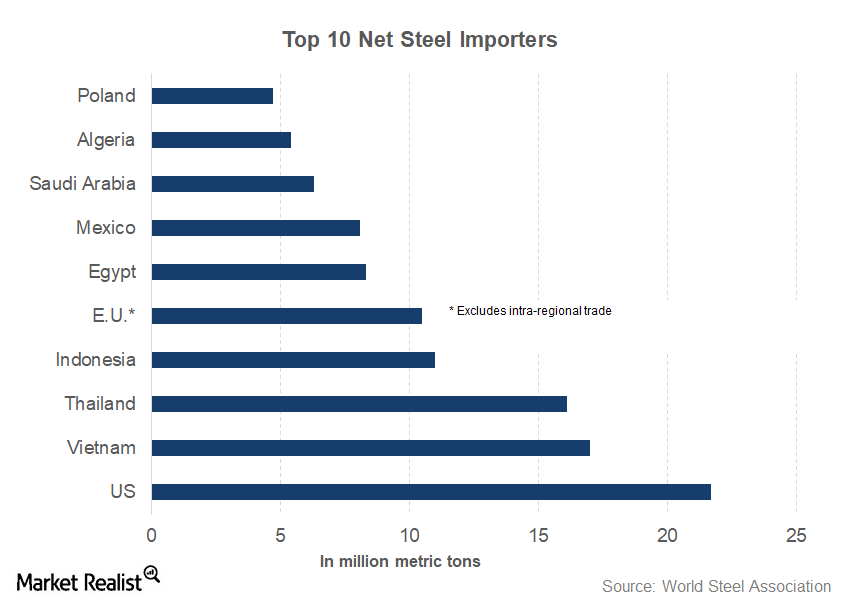 Top 10 Steel Importers: Is US Steel Industry Justified?
Top 10 steel importers
Previously in this series, we looked at the top steel producers and consumers. In this part, we'll look at the top ten steel importers. The data are based on 2016 net steel imports. You can define net imports as imports minus exports.
The United States is the world's largest net steel importer. The country's net steel imports totaled 21.7 million metric tons last year. US steelmakers, including U.S. Steel Corporation (X), Nucor (NUE), and AK Steel (AKS), see higher levels of steel imports as one of their biggest woes. After a brief lull last year, we've again started to see an uptick in US steel imports (CLF) (XME). Steel import penetration is getting close to 30.0%, which is high by historic standards.
Article continues below advertisement
While the Trump administration has ordered a probe under the rarely used Section 232 of the Trade Expansion Act of 1962, the findings are still not out. Concerned over the rise in steel imports amid the pending Section 232 imports probe, US steelmakers wrote a letter to President Trump requesting urgent action.
Other major steel importers
Vietnam and Thailand are the second-largest and third-largest net steel importers, respectively. Indonesia is the fourth-largest globally, while the European Union ranks fifth. While US steel companies are not averse to steel imports, they see steel products that are allegedly subsidized by governments as a challenge.
China has long been blamed for the United States' and, for that matter, the global steel industry's woes. However, we've seen a steep decline in Chinese steel imports this year. Furthermore, China now accounts for only about 2.0% of total steel imports. You can read Should US Steelmakers Stop Bashing China? to find out the recent trend in Chinese steel exports.
You can also visit our Steel page for ongoing updates on this industry.