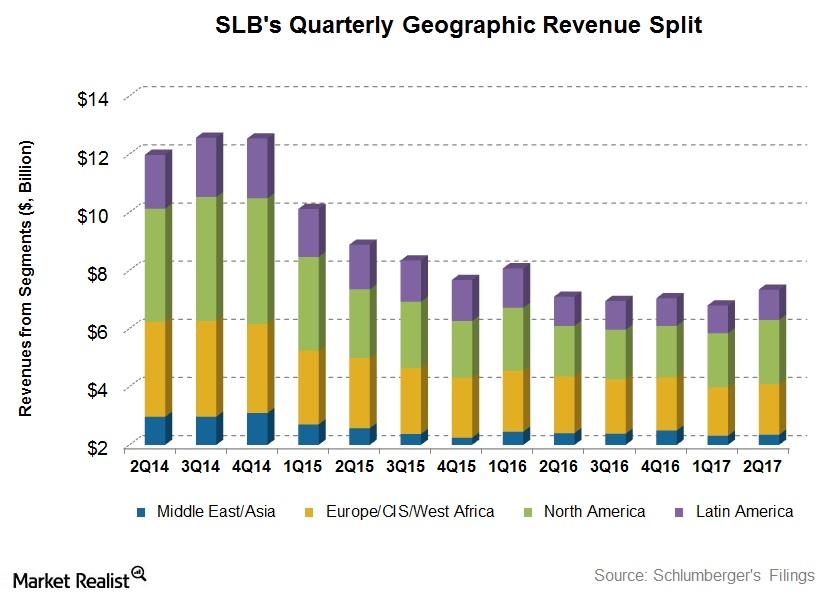 What Were Schlumberger's Drivers in 2Q17?
Revenue by geography
Schlumberger's (SLB) Europe, CIS (Commonwealth of Independent States), and West Africa region's revenues fell 10% in 2Q17—compared to 2Q16. It was the highest revenue fall. The Middle East and Asia region fell 2%. Schlumberger's revenues from North America staged a remarkable comeback and rose 27% from 2Q16 to 2Q17. Schlumberger accounts for ~6.0% of the ProShares Ultra Oil & Gas ETF (DIG). DIG has fallen 22% in the past year—compared to a 21% fall in Schlumberger's stock price.
Article continues below advertisement
Operating margin
Reservoir Characterization, Production, Drilling, and Cameron are Schlumberger's four product groups. Schlumberger's Reservoir Characterization group's 2Q17 operating income margin remained unchanged at 17%—compared to the previous year. The Production group's operating margin improved to 9% in 2Q17 from 4% in 2Q16. The Drilling group's operating margin rose to 14% in 2Q17 from 8% in 2Q16.
Negative drivers
pricing pressure in the Gulf of Mexico caused lower offshore revenue
less rig-related work in Western Canada due to the spring breakup
weak upstream activity in Brazil and Venezuela
lower revenue from Kuwait
decreased revenue from India as the monsoon had a negative impact on rig activity
Article continues below advertisement
Positive drivers
strong fracking activity and a higher rig count led to accelerated completion activity in North America
better pricing for Schlumberger's products and services
change in rig design and longer laterals led to higher demand for Schlumberger's rotary steerable systems and drill bit technologies
strong performance in Mexico, Russia, and the CIS regions
increased upstream activity in the North Sea in Europe
What impacted Schlumberger's 2Q17 earnings?
In 2Q17, Schlumberger reported a net loss of ~$74 million—a sharp improvement compared to 2Q16 when Schlumberger reported a net loss of $2.16 billion due to huge impairment and restructuring charges. In 1Q17, Schlumberger recorded net income of $279 million. It's reported earnings fell in 2Q17.
Net loss for Schlumberger's peers
In comparison, TechnipFMC's (FTI) reported net income was ~$159 million in 2Q17. In 2Q17, Fairmount Santrol Holdings' (FMSA) net income was $10.5 million, while Weatherford International's (WFT) net loss was $165 million. To learn more, read Fairmount Santrol Holdings' 2Q17 Earnings Beat Estimates.
How much does Schlumberger depend on North America? We'll discuss this in the next part.