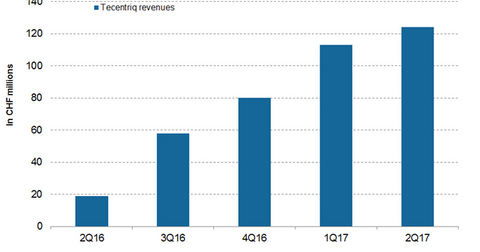 Roche's Tecentriq Witnessed High Revenue Growth in 1H17
By Daniel Collins

Updated
Tecentriq revenue trends
In the first half of 2017, Roche's (RHHBY) Tecentriq reported revenues of CHF[1. Swiss franc] 237.0 million. In that period, the US market for Tecentriq generated revenues of CHF 229.0 million.
In 2Q17, Tecentriq generated revenues of CHF 124.0 million compared to CHF 19.0 million in 2Q16. In 2Q17, it rose ~10.0% on a QoQ (quarter-over-quarter) basis.
The chart above demonstrates the revenue trajectory of Tecentriq from 2Q16 to 2Q17.
Article continues below advertisement
About Tecentriq
Tecentriq (atezolizumab) injection is used for the treatment of individuals with non-small cell lung cancer (or NSCLC) whose disease progressed during or after platinum-containing chemotherapy.
In April 2017, the FDA (U.S. Food & Drug Administration) gave Tecentriq accelerated approval for the treatment of people with metastatic urothelial carcinoma (or mUC) who are not eligible for cisplatin-containing chemotherapy or have shown disease progression after any platinum-containing chemotherapy, or within 12 months of neoadjuvant chemotherapy. The accelerated approval of Tecentriq for the management of mUC was based on the results from the Phase 2 IMvigor210 trial.
The trial included 119 individuals with mUC irrespective of PD-L1 expression who were not eligible for cisplatin-containing chemotherapy. In the trial, 23.5% of the patients achieved the objective response rate, 6.7% achieved complete response, and 16.8% achieved partial response.
Roche is conducting various clinical trials for label expansion of Tecentriq. It's conducting a Phase 1 trial with Tecentriq for the evaluation of the safety and efficacy for the treatment of ovarian cancer and pancreatic cancer.
Roche is conducting a Phase 3 trial for the evaluation of the safety and efficacy of Tecentriq and Abraxane combination therapy for the treatment of triple negative breast cancer. The label expansion of Tecentriq could help the drug penetrate a larger market.
In the mUC drugs market, Roche's Tecentriq competes with Bristol-Myers Squibb's (BMY) Opdivo, Merck & Co.'s (MRK) Keytruda, and AstraZeneca's (AZN) Imfinzi. The growth in sales of Roche's Tecentriq could boost the share price of the Vanguard FTSE All-World ex-US ETF (VEU). Roche makes up about ~0.73% of VEU's total portfolio holdings.